Michael Shanks Biography
Michael's Youth
Michael on his trouble at school: Ha Ha. That would have to be something in Elementary school, where I was "chasing the girls around." I used to get in a little trouble with that- it has evolved into good trouble.

Michael Shanks was born on December 15, 1970, in Vancouver, BC, Canada, and raised in Kamloops, BC. His full name is Michael Garrett Shanks and he's the youngest of two brothers.
In his comments about his time at High School, Michael describes himself as "some kind of overachiever". He played hockey (defense) and rugby (fly half then wing), was in the student council, and then there was the theatre group, of course. "Why didn't I smoke and drink and have a good time?!?" Michael is an avid reader and likes to indulge himself in reading books consisting of cultural facts and mythology. He played hockey for 22 years, and as a kid he wished - what almost any other boy in Canada did - to play professional hockey. Here he explains why he decided not to try out for professional hockey:
"I think I just lost the sense of fun out of it. Once it gets to a certain level, when the parents are up in the stands fighting and the coach is raking you over the coals too hard. Especially in Canada, when you're 15 or 16 years old and you're just trying to establish the fun idea of it and you're being asked to go on the ice and fight and hurt people and stuff like that. I mean the fun aspect of it got lost very quickly. And you start to hang on to your stick a little too hard when you worry about it, because you worry about screwing up. So you start to clutch that stick like it's an axe. You're just afraid to let it go and after a while you stop being able to play, because you're so worried about making a mistake that you can't perform anymore. So once I finished playing it seriously and started playing it for fun again, all of a sudden I found out I was a much better hockey player, because I enjoyed it again, and I was having fun when I was doing it."
He studied Commerce at the University of BC, before deciding to pursue an acting career. Michael explains why:
Ultimate TV: Can you name a defining event in your life that has made the biggest difference to you?
Michael: In terms of my career, a failure of a calculus course forced me to get out of a business major and into acting.
It's no small irony that Michael Shanks is co-starring with Richard Dean Anderson on Showtime's action-adventure series Stargate SG-1. While enrolled at the University of British Columbia, Shanks happened upon a location shoot for MacGyver (which starred Anderson). "Being from a small town in Canada, I had never seen a TV show being filmed," the actor recalls. "I watched Richard work a bit, and it got me excited about the possibilities of becoming a professional actor. I didn't change majors based on that alone--it makes it sound like Richard was the wind beneath my wings!" he laughs. "After spending a year dabbling in theater part-time, I decided to switch out of my business program. I haven't looked back since."
Early acting roles
After graduating with a Bachelor of Fine Arts degree in 1994, Michael performed at the Stratford Shakespeare Festival for two seasons in a variety of roles, including Lorenzo in Merchant of Venice, Menteith in Macbeth as well as roles in King Lear, Amadeus and The Merry Wives of Windsor. Other theater credits include Love of the Nightingale, Translations, Wait Until Dark, and Loves Labours Lost.
Toronto Sun review of The Merchant of Venice:
"As Gratiano and Nerissa, Wayne Best and Michelle Fisk are great good fun as well, while with the casting of Michael Shanks as Lorenzo and Marion Day as Jessica, Shylock's daughter, Maraden injects more compassion, bringing depth and pain to Lorenzo's racism and Jessica's pain. It's still not a comfortable evening -- and frankly, it probably shouldn't be, for any of us. But by stripping the work of caricature and finding character instead, Maraden has shed a new light into dark corners and found something that's thrilling.
SUN RATING: FIVE OUT OF FIVE STARS"
An appearance as a reckless teen on The Commish led to a small part on Highlander (in "The Zone"), in which Shanks played "a miner's son trying to stop his corrupt father from preventing the workers from getting what they were owed. I die tragically." Fortunately for Shanks, his character was also a friend of Duncan MacLeod's, which means the fledgling actor got the opportunity to work with series headliner Adrian Paul. "He's a great guy. He's a very talented man, and I had a good experience working with him."
That in turn led to Shanks' feature film debut in Call of the Wild with Rutger Hauer. "I only worked a few days on it," he says. "I played a gold miner. The best part was getting to work with Rutger, who's a really interesting guy and one of my favorite actors." Pressed to offer his less-guarded impressions of the Blade Runner star, Shanks is slightly more forthcoming. "Rutger is a bit of a perfectionist; he has his own way of working. He doesn't work to screw up other people, he works to further his process and to better the product. Personally, I was really tickled to work with him."
1993: "Highlander" playing "Jesse Collins" (as Michael G. Shanks) in episode: "The Zone" (episode # 2.6) 1 November 1993
1993: "The Commish" (1991) playing "Sean" in episode: "Rising Sun" (episode # 3.6) 6 November 1993
1995: "University Hospital" (1994) playing "Jake" in episode: "Shadow of a Doubt" (episode # 1.9) 1 May 1995
1995: "The Outer Limits" (1995) playing "Melburn Ross" in episode: "Mary 25" (episode # 4.15) 29 May 1998
1995: "A Family Divided" (1995) (TV) playing "Todd" in a powerful drama about a respectable middle class woman (Faye Dunaway) whose life begins to fall apart when she suspects that her son (Cameron Bancroft) may have been involved in a gang-rape.
1997: "The Call of the Wild" playing a gambler in Jack London's famous tale of Buck, a dog kidnapped from his home in California and transported to the Yukon where he is mistreated.
Trivia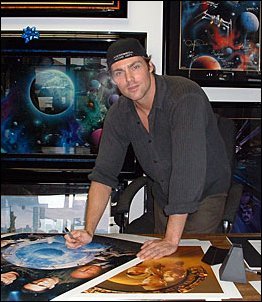 Michael Garret Shanks, born December 15, 1970, in Vancouver, BC, Canada, and raised in Kamloops, BC
Height: 6 feet
Eyes: Blue
Hair: Used to be blonde but now he's brunette as the sun doesn't get into his hair as much as it used to ;)
Daughter Tatiana (born late 1998) with ex-partner Vaitiare Bandera
Michael's partner is the lovely Lexa Doig of Andromeda [2001]
Favourites:
Musical Artist: The Tragically Hip (website)
Poet: Emily Hanson
Song: Nautical Disaster
Stargate episode: Torment of Tantalus
TV show: Simpsons
Actors: Harrison Ford, Ed Harris, William Hurt
Sci Fi: When he was a kid, Michael loved Star Wars, Star Trek, Space: 1999 and Battlestar Galactica.
:: Early Years :: Dr. Daniel Jackson :: Season 1 :: Season 2 :: Hamlet :: Season 3 ::
:: Season 4 :: Directing :: Season 5 :: Leaving Stargate :: Free Agent ::
---
Biography credits
:: Interview and feature extracts from:
Cult Times
Cyberex
Dreamwatch
Frontier
Gabereau
Our Stargate chat
SCI FI Wire
SFX
Starburst
Starlog
TV Zone
Ultimate TV
Xpose
Zap2It
:: Photo credits - Googled these puppies all over the web but especially:
Ashton Press - Shamelessly Shanks
Leah Rosenthal Stargate SG-1 Cartoons
Lightspeedfineart
MGM
MSOOF
Shanksadelic
What are you waiting for? Go check 'em out! They have WAY more gorgeous original pics ;)
:: Hamlet production photos of Michael by Andree Lanthier - prints available from:
David Cooper Photography
950 Powell Street, Suite No. 202
Vancouver, BC Canada V6A 1H9
Tel: 604-255-4576
Fax: 604-255-3864
(photos 8 x 10s)