Stargate SG-1 Cast Interviews: Michael Shanks
Stargate Crashers
Jim Swallow, SFX #47, Jan 99
Behind the scenes: portal fun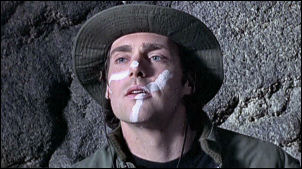 DEVLIN AND EMMERICH DESPISED IT, BUT STARGATE SG-1 HAS NOW SECURED ITSELF AS ONE OF THE TOP SF TV SERIES OF THE' 90S. JIM SWALLOW TALKS DOORS WITH CO-PRODUCER BRAD WRIGHT AND CAST.
Prompting legendary '90s SF schlockmeisters Dean Deviln and Roland Emmerich to dub your TV spin on their cinematic concept "shit" and "like watching somebody murder your children" isn't really the sort of PR executive producer and writer Brad Wright would want of his and co-producer Jonathan Glassner's Stargate SG-1. But then the Godzilla and ID4 supremos, who first hit the Hollywood big time with their SF actioner Stargate, haven't seen the show's ratings. Stargate SG-1 has been a staggering success worldwide.
Currently midway through its second season on satellite here in the UK and on the Showtime cable network in the US, the series is gaining a brand new audience as it launches into syndication across the main American TV networks. And with a four-season commitment from parent company MCM, it's looking in good shape, despite the face-changing necessitated by its new TV-honed home.
Richard Dean Anderson has replaced Kurt Russell as Colonel Jack O'Neill and James Spader's nerdy scientist Daniel Jackson is now portrayed by Michael Shanks. Adding televisual flourish to the mix arc newcomers Teal'c (Christopher Judge), a turncoat warrior from the enemy side, and Captain Samantha Carter (Amanda Tapping), an Air Force astrophysicist.
[Snippage of profiles of Richard Dean Anderson, Amanda Tapping and Christopher Judge]
Like co-star Richard Dean Anderson, actor Michael Shanks was also faced with the difficult task of making another actor's character his own when it came to portraying the bookish scientist Daniel Jackson, whose wife has been kidnapped by the Goa'uld lord Apophis. "You just have to deal with it," smiles Shanks. "I admire James Spader's work very much, and I think he did a great job playing Jackson in the film. What I had to do was what theatre actors do all the time: come in and take over a role that someone else has been handling and just play it to the best of my ability. I had to ask myself what was it about that person that I could take on board, what elements would I take into my portrayal. Any actor who takes over a role wants to make it their own."
But he has a soft spot for the character, despite the challenge: "I admire Daniel's naïveté, passion, innocence and curiosity. He's like a little child lost in the universe, trying to find something. He doesn't know what it is yet, but he's enjoying the ride. Initially it was easy to kind of give in to his sense of wonder, but its got harder as time has gone on. Sometimes it's hard to be enthusiastic every day. He's got so much excitement for what he does!"
As "an avid reader of books on cultures and myths," Shanks is also eager to bring other elements of his own personality into the role; he's certainly keen to bring out the character's "dark side" after Spader's limp portrayal.
Having previously guest-starred on other Canadian-located genre shows like Highlander and The Outer Limits, Shanks also regards Stargate SG-1 as a potent blend of science fiction and action adventure.
"We're not just an SF show. We use a lot of those sci-fi elements in the background, but that's largely a vehicle for more humanistic stories about people. We've got some great developments coming up this year, as well."
Well into the next millennium, Stargate SG-1's missions across the galaxy look set to be an established fixture on the SF TV landscape.
Executive producer and co-writer Jonathan Glassner puts it best: "We're not bound by reality and imagination is limitless."
© 1999, SFX. Buy SFX online.
Return to Michael Shanks interviews home
Return to Stargate SG-1 cast interviews home