3.14 "Foothold" Transcript
Jump to navigation
Jump to search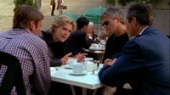 Episode Guide
Précis
During routine medical exams, Dr. Fraiser injects each team member with a sedative, rendering them unconscious. Teal'c awakens and sees General Hammond conspiring with Fraiser and two aliens. What has happened at Stargate Command, and can SG-1 overpower its own "allies"?

Guide | Transcript
Transcript
TEASER
FADE IN
INT—SGC GATE ROOM
[Hammond is standing at the head of the ramp, his hand balled into a fist as the Stargate dials in. The PA announces an incoming traveler. Hammond watches at the Stargate springs to life and bathes him in blue light. SG-1 comes through the gate, O'Neill first, dressed in rain slickers. O'Neill shakes his head and sticks his finger in his ear as he pulls the hood off his head, knocking his cap askew. He takes the cap off and ruffles his hair.]
HAMMOND
Welcome back, SG-1.
CARTER


(breathlessly)


Thank you, sir. It's good to be back.
[Everyone on the team is wet and, apparently, out of breath.]
HAMMOND
You're overdue.
O'NEILL


(very loudly)


A bit of a wild goose chase, sir.
DANIEL
The remnants of a temple we discovered led me to believe we'd found Kheb…the planet Sha're told me about.
TEAL'C
However, there was no sign of Amonet's Harsesis child.
O'NEILL


(still messing with his ear, shouting)


Just rain. Much rain…wind, lightning, hail…Did I mention the rain, sir?
HAMMOND
Report to the infirmary.
O'NEILL


(glancing at the team)


Well, I think we'd all like to change first, General. I, personally, have mushrooms growing out my—
INTERCOM
Attention all levels: stand by for contaminated materials transfer.
O'NEILL


(sees an airman standing next to him and hands the man his gun)


Infirmary. Yes, sir.
[Carter also hands over her weapon, then removes her hat and ruffles her hair as O'Neill did earlier. They file out of the room, Hammond watches them go. The Airman leads the team to an elevator. O'Neill is working his jaw to try to get some water out of his ears. They step inside and another airman is waiting.]
AIRMAN
Infirmary?
O'NEILL
What?
AIRMAN
I'm just escorting you up as a safety precaution, sir. There's a big chemical spill on Level 23.
CARTER
What kind of chemical?
AIRMAN
Tetrachloroethylene rupture.
DANIEL
Rupture?
AIRMAN
The entire level's been sealed off. HazMat team's cleaning it up now.
O'NEILL


(finger in his ear)


What?
AIRMAN


(loudly)


There's no danger, sir!
O'NEILL
Thank you!
[Teal'c raises an eyebrow, obviously suspicious.]
INT—INFIRMARY
[O'Neill is lying on a bed, holding a ball of cotton in the crook of his arm where blood has been drawn. Dr. Fraiser approaches and pulls the curtain closed.]
FRASIER
Loosen your belt please, Colonel.
O'NEILL


(slowly getting off the bed)


How is a needle in my butt going to get water out of my ears?
FRASIER


(smiling)
It isn't.
(chuckling)


Come on, sir. You know this is standard procedure.
[Fraiser walks off.]
O'NEILL


(watches her go)
We should rethink this procedure.
(starts loosening his belt. Through the curtain:)


So Daniel…in our galactic meanderings, if we happen to stumble across this…narcissus child—
DANIEL


(correcting)


Harsesis.
O'NEILL


We're still stalking about a baby, right?
(pause)


What?
DANIEL
What?
INTERCOM


Attention all levels
Contaminated material transfer in progress.
(alarm begins sounding)


Please remain at your posts until notified.
[A nurse approaches O'Neill with a large syringe. He eyes the needle warily, then touches her arm.]
O'NEILL


Listen, really jam it in this time, okay?


(turns his back, leaning on the bed)
[Close-up of a syringe filled with yellow liquid. The vial is tapped and the view expands to show the needle-bearer is Dr. Fraiser and she's preparing to use the syringe on Carter. Carter has loosened her belt and is lowering her pants to get her injection.]
CARTER


(bending over the bed)
So, if Sha're's child is already born with all the knowledge of the Goa'uld, it should be able to communicate at a much younger age, right?
(long pause. Dr. Fraiser is glaring at Carter)


Colonel? Daniel?
FRASIER


Just relax.


(injects Carter)
[Carter jerks with the injection, her eyes widening. She appears to slowly lose consciousness, then collapses on the bed. Frasier watches her fall, then caps the syringe and smirks.]
FRASIER


(coldly)


Let's begin.
[Wide shot of the infirmary. Officers and orderlies move in and pull back the curtains, revealing the members of SG-1 have all been knocked out. Frasier inspects O'Neill's limp form, then moves away from the bed.]
END OF TEASER
INT—INFIRMARY
[Close-up of Teal'c laying on a gurney. His eyes slowly open and he examines his surroundings. He sits up, seeing Carter on the bed next to him. She's unconscious. He lays down again as he hears Dr. Fraiser's voice outside the curtains.]
FRASIER


(off-camera)
It must have something to do with the alien symbiote within him.
(Teal'c can see through the opening in the curtain. Dr. Fraiser, General Hammond and Sergeant Siler are standing just outside)


It took an extremely large dose just to sedate him in the first place.
[Behind Siler, Teal'c sees an alien. The alien appears to be wearing some kind of armor, its face simply a mask.
HAMMOND
What is the problem with the human?
[The camera pans to fully expose the alien. It is breathing heavily, as if through a filter.]
FRASIER
Her body chemistry has been altered. It is related to her prior infestation by the dominant parasitical species of this galaxy.
HAMMOND
Is there a way to compensate?
FRASIER
I haven't found it yet.
HAMMOND


(to Siler)
Place them in a holding cell.
(to Fraiser)
Once the invasion is complete, you may study them further. Only then will we know if this is a viable new homeworld.
(to aliens)


Come with me.
Fraiser


(walking off, to Siler)


Take that one first.
[Siler pushes aside the curtain and Teal'c pretends to be asleep. The alarms begin again as Siler moves to the head of Teal'c's bed and begins to roll him out of the infirmary.]
INTERCOM
Attention all levels. Contaminated material transfer in progress. Please remain at your posts until notified. Repeat—Contaminated material transfer in progress
[Siler wheels Teal'c's bed down the hall, entering the same elevator SG-1 used to get to the infirmary. The same airman is present.]
AIRMAN
Twenty-three?
SILER
No, this one's going to sixteen.
[On Level 16, Siler wheels Teal'c out of the elevator, standing near Teal'c's head again. Once the doors close and they're alone, Teal'c reaches up and pulls Siler's head down. He headbutts Siler and jumps off the bed. He punches Siler and tosses the unconscious man onto the bed, stealing a keycard from his pocket. Teal'c then pushes the bed down an empty corridor, looking inside a closet to see what's inside and then stashing the bed there. He closes the door and hurries down the hall.]
[He swipes the keycard through a scanner, gaining entrance to a weapon's locker. He gets several supplies, attaching a belt to himself, before he heads back down the hall. When the elevator returns, he is standing next to the door with a zat in hand. A doctor exits, wheeling a bed with Major Carter into the hall. Teal'c zats the man, then turns. The airman is exiting the car with his gun out. Teal'c grabs the gun and pushes the man back into the elevator, slamming him against the wall several times until he collapses. Teal'c takes the man's gun and drags the doctor inside. He picks up his weapons, wheels Carter back into the elevator and hit the button. The doors close. Inside the elevator, Carter is waking up.]
CARTER


(weakly)


Teal'c…
TEAL'C


Major Carter. There is little time.
(puts his hand on her shoulder)


Are you capable of standing?
CARTER
Uh…
[She groans, using Teal'c's arm to sit up. She gets off the bed and immediately buckles. Teal'c keeps her from falling.]
CARTER
Ohh. Oh, I feel sick.
TEAL'C


(helping her back onto the bed)


You are suffering from the effects of a sedative.
CARTER


(trying to clear her head)
What? What's going on? What—
(sees the doctor and airmen on the ground, plus the gun on the bed)


What happened to them?
TEAL'C


They are not who they appear to be.
(hands her a zat)


There has been an alien incursion within the SGC.
CARTER
A what?
TEAL'C
In the infirmary, Dr. Fraiser and General Hammond spoke of a procedure which has failed to work on both of us. They spoke of invasion.
CARTER
How does that add up to aliens?
TEAL'C
I saw two of them in their natural form. Truly, they are alien.
CARTER
W-well, what about the colonel and Daniel? We have to know what's happened to them.
INT—SGC SECURITY MONITORING ROOM
[A lone woman is sitting in front of several computer screens when there's a loud knock on the door.]
WOMAN
Come in.
CARTER


(tries the knob)


It's locked.
WOMAN


(muttering)


It's not locked…(stands and goes to the door, opening it. Teal'c is there and he zats her. Carter and Teal'c move to the seats and Carter begins typing.)
CARTER
Okay, what about this chemical spill?
TEAL'C
I believe it to be a subterfuge.
[Carter redirects the feed on the security cameras to show Level 23. All screens show static.]
CARTER
Not a single camera is operating on Level 23.
INTERCOM
Incoming traveler.
CARTER


(moving to another set of screens with Teal'c)


Try punching up the Gate room.
[He activates the cameras. The Stargate is active. Two aliens emerge and begin down the ramp, greeted by Colonel O'Neill, Daniel and General Hammond. They appear to talk for a moment.]
TEAL'C
The Colonel O'Neill and Daniel Jackson we know would not welcome aliens so blithely.
CARTER
Imposters?
[Teal'c simply raises an eyebrow.]
INT—HALLWAY
[Carter and Teal'c round a corner. Carter has a leather jacket draped over her arm and Teal'c is pulling on a blue jacket.]
CARTER
How do we know we're the only ones who haven't been replaced?
TEAL'C
There is no way of knowing for certain. But if General Hammond has been compromised…
CARTER


Then we can't trust anyone in the mountain.


(They reach a hatch on the wall and Carter unlocks it, pulling it open)
INT—HALLWAY
[Three airmen approach an elevator and it's activated by a keycard. The doors open, revealing the airman and doctor that Teal'c zatted.]
AIRMAN


Alert General Hammond!


(his companion leaves. The airmen pulls down the unconscious man's shirt, revealing a circular device with flashing lights attached to the man's chest.)
INT—HALL
[Carter has the hatch open and is pulling on her leather jacket.]
CARTER


The base was designed to keep people out, not in.
(looks up the access ladder)


If we can make it to the South Gate—
[She is interrupted by an alarm klaxon sounding.]
TEAL'C
Our escape has been detected.
CARTER


(indicating the hatch)


Well, we won't make it out this way now.
TEAL'C
You are correct. I will purchase time for you to depart this mountain.
CARTER
Keep 'em busy as long as you can. I'll come back for you.
TEAL'C


(pulling off his jacket)


Of that I am certain.
[Carter smiles at him and climbs into the hatch. Teal'c closes the door behind her and moves down the corridor, drawing his zat. He spots two airmen approaching and ducks into an alcove, holding his zat to his chest. As the men approach, Teal'c steps out and punches one, elbowing the other. Both fall. He steps over them and touches the forehead of one. The man is bleeding. Teal'c looks at the blood and doesn't see the third airman approach from behind. Airman number three pulls his weapon and fires, hitting Teal'c in the upper right arm. He turns and zats his attacker.]
EXT—NIGHT
[A hatch in the forest opens and Carter crawls out. She's out of breath, pausing to rest before she climbs completely out. She sits on the side of the hatch, drawing her gun before pushing the hatch closed.]
INT—HALL, SECTION G-7
[The alarm continues to blare. Two airmen are stalking down the hall when one holds his hand up and kneels. There's spots of blood on the floor. He looks to his partner as a door flies open, hitting him in the face. The kneeling man is knocked out as Teal'c exits, grabbing the other man by his neck. He slams his captive forward, then throws him back into the wall. The man collapses. Teal'c turns and sees one of the aliens in it's natural form at the head of the hallway. He lunges at it with the zat out, but a security door slides down. Behind him, another door is sliding down, attempting to trap him. Just before the second door hits ground, a smoke bomb is tossed in. He watches the smoke rise, trying the doors to no avail. He succumbs to the gas and falls to the floor, unconscious.]
EXT—A BANK OF PAYPHONES NEAR A GARDEN
[Carter is at one of the pay phones. She dials a number and runs her hand through her hair.]
EXT—CAR PULLING UP TO A CURB
[An airman in the backseat answers a cellphone and hands it to the man in the passenger seat. The man is Colonel Maybourne. Maybourne takes the phone and climbs out of the car.]
MAYBOURNE
Maybourne.
CARTER


(takes a breath)


This is Major Samantha Carter. We have a foothold situation.
MAYBOURNE
Major Carter? Where are you?
[Carter looks over her shoulder and sees another woman at the next payphone. Carter walks to the side, attempting to be secretive.]
CARTER
I can't tell you that, sir. If memory serves, there's an outdoor cafe outside NID headquarters.
MAYBOURNE
In DC?
CARTER
Four o'clock.
MAYBOURNE


(checking his watch)


Uhh…I'm gonna need a little more than that.
CARTER


(forcefully)


I repeat, we have a foothold situation.
MAYBOURNE
Major, you're way outside your appropriate chain of command.
CARTER
I have reason to believe that may be compromised, sir.
MAYBOURNE


(pause)
Understood.


(hangs up)
[Carter also hangs up. She takes a breath and walks off, running her hands nervously through her hair.]
INT—INFIRMARY
[Teal'c is strapped to a medical bed. The camera pans up his body to reveal he is entirely restrained; leather straps are looped around his arms, chest, legs and neck. He awakens slowly as Dr. Fraiser approaches his bedside. She sees his eyes are open and smiles warmly.]
FRASIER


(softly)
Hey, Teal'c…how are you feeling?
(he sits up, looking at the leather straps holding him down)


You, uh, went a little crazy on us so we had to sedate you. Do you remember what happened?
TEAL'C


(weakly)


I do not.
FRASIER
SG-1 was exposed to chemical fumes from the spill. You became delusional and attacked several people trying to escape from the base.
[Hammond approaches.]
HAMMOND
Teal'c, glad you're awake. Has Dr. Fraiser explained the situation?
TEAL'C
She has.
HAMMOND


Good.
(steps forward)


We're hoping you can tell us where Major Carter is.
FRASIER
She also had an adverse reaction to the chemical. One of the side effects is hallucinations…paranoia. Your symbiote protects you from a lot of things, Teal'c, but apparently not tetrachloroethylene.
HAMMOND
Where is she?
TEAL'C
I do not know.
FRASIER
Teal'c, if she doesn't receive medical attention soon, she's just going to get worse. I won't lie to you—she could die.
EXT—WASHINGTON, DC
[The camera pans down from the NID headquarters to show Maybourne waiting at a table. Carter approaches on a walkway overhead and pauses to look down at him before continuing. He's looking around for her and finally sees her just as she reaches his table. She sits down, apparently grateful to be off her feet.]
WAITRESS
Hi, can I get you some coffee?
CARTER


Please.
(waitress pours)


Thank you.
MAYBOURNE


(waiting for the waitress to leave, then)


So, you came to the one person you don't trust.
CARTER
I don't know how far up the chain of command the infiltration goes. It may well be contained within the SGC, but if General Hammond was compromised—
MAYBOURNE
He sounded fine to me on the phone.
CARTER


(pauses, then indignant)


What?!
MAYBOURNE
He called me, Major. Calm down. He's concerned for you, that's all.
CARTER


(looking around, pissed)


I told you we have a foothold situation.
MAYBOURNE
Major, a chemical spill causing paranoid delusions is infinitely more plausible to me than aliens taking over the SGC.
CARTER


(rubs her face, then shakes her head, smirking)
My God. You don't think I can tell the difference between the two?
(slaps the table)
What was I thinking?


(she stands and turns to walk away, but sees something that makes her stop in her tracks. Colonel O'Neill and Daniel are standing behind her, both wearing dark sunglasses).
O'NEILL
Oh, hi, Carter.
CARTER


(turns, glaring at Maybourne. She walks over and leans over in his face)


Maybourne, you are an idiot every day of the week, why couldn't you have just taken one day off?!
[Other diners turn to look.]
MAYBOURNE


(standing)


That's insubordination, Major.
O'NEILL


Oh, for crying out loud, Maybourne.
(picks up an overturned chair and offers it to Carter)


Cut her some slack. She's not exactly herself.
DANIEL


And neither were we.
(sits on the other side of Carter, who reluctantly returns to her chair)


Sam, believe me, we know what you're feeling. It's the chemical.
CARTER
I don't believe it.
[Daniel takes off his sunglasses.]
O'NEILL
All right. Exactly what are the side effects of this…tetra-chlora-ethyl-mermalyne stuff?
CARTER


(covers her face)


Hallucination, delusion—
O'NEILL


(interrupting)


Paranoid delusion, I think it was, but…go on.
CARTER
Look, I know what I saw!
DANIEL
We were affected by the fumes the moment we got in the elevator.
O'NEILL
Didn't even realize it was happening. I…vaguely remember having some water in my ear—that's it.
CARTER
Dr. Fraiser injected me with something.
O'NEILL
She was trying to sedate you. She didn't give enough to Teal'c, he sprung you and off you went. He's fine, by the way. Beat the crap out of a couple S.F.'s, but he's fine.
DANIEL
We're telling you the truth, Sam.
CARTER


(looks at Daniel, to O'Neill, then to Maybourne)


You should have followed procedure.
MAYBOURNE
I fully intend to return with you just to make sure everything's all right.
CARTER


(to O'Neill)
And you agreed to that?
(to Maybourne)


Shouldn't that tell you something?
MAYBOURNE
I wouldn't tell them where we were meeting until they agreed to my inspection of the SGC.
CARTER
You have no idea what you're walking into.
MAYBOURNE
I can take care of myself, Major. If I don't report back in a few hours, you can rest assured that action will be taken.
[Carter closes her eyes and looks down at the tabletop.]
O'NEILL
We just want you to come back so Fraiser can check you out.
CARTER


(raises her eyebrows)


You're asking?
O'NEILL
We're asking.
CARTER


(looks at Daniel, who hangs his head)


So I have a choice? I can walk away right now?
JACK and DANIEL
Yes.
MAYBOURNE
No.
O'NEILL
Maybourne…
MAYBOURNE
Major Carter, you will accompany us back to the base. If you resist, you will be handcuffed.
[Carter raises her eyebrows.]
O'NEILL
No, she won't.
MAYBOURNE
Well, this is all very touching, but I think this very conversation in this very public place is evidence that Major Carter, in her current state, is something of a security risk.
O'NEILL
What's the matter with you?
[Carter closes her eyes and cocks her head to the side.]
DANIEL


(noticing)


It's starting to wear off, isn't it? You're starting to think straight. That's exactly what happened to me.
CARTER
I'm so tired…
O'NEILL
We're going to go now. I'd like you to come with…but it's up to you.
[Carter looks at O'Neill, to Daniel, and finally to Maybourne. She nods her head.]
CARTER
All right.
O'NEILL


You sure?
(she nods)


Good. Plane's waiting.
[They all stand, Carter glaring at Maybourne the entire time.]
MAYBOURNE


(putting on his hat)


After you, Major.
INT—SGC INFIRMARY
[Dr. Fraiser and General Hammond are still standing over Teal'c's bedside.]
HAMMOND
Maybe you'll remember something later, son.
TEAL'C
Please, release me from these restraints.
FRASIER


(softly)


I'm sorry, Teal'c. There's still a chance you could relapse. Three of the men you attacked have concussions.
[The phone rings. Hammond goes to answer it while Frasier remains at Teal'c's side.]
HAMMOND


Yes? You're certain she's been located?
(Frasier looks up and cocks her head to the side, eavesdropping)
Very well.


(hangs up)
FRASIER


(looking back at Teal'c, coldly)


Then we may begin experimenting immediately.
INT—A PLANE, FLYING ABOVE THE CLOUDS
[Carter, Daniel and Maybourne are being carried back to the SGC. Daniel is pouring a drink at the bar, Carter and Maybourne are sitting at a couch and O'Neill enters from the front of the plane.]
O'NEILL


(mutters)


Your tax dollars at work…Cozy little jet you've got here, Maybourne.
MAYBOURNE
You've alerted General Hammond to expect me?
O'NEILL
Oh, yes. He's awaiting your thoughts.
[Daniel sniffs the drink.]
CARTER
So…how exactly is Teal'c?
DANIEL


(handing the drink to Carter)


Oh, well, you know Teal'c…
[She sips it and sits it aside.]
MAYBOURNE
Is the chemical spill completely cleaned up?
[Carter sees Maybourne's gun in the back of his belt as she puts the drink down, then looks at O'Neill.]
O'NEILL
As of this morning, the hazmat team had gotten the last of it.
[Carter sees O'Neill flicker and momentarily become one of the aliens before returning to his normal self.]
O'NEILL
But they're still gonna keep Level 23 sealed off until they can figure out what happened in the first place.
[Carter grabs Maybourne's gun and jumps up, cocking the gun and aiming it at O'Neill.]
O'NEILL
Carter? What are you doing?
CARTER
Don't move.
O'NEILL


(softly)


Put the gun down.
DANIEL
She's hallucinating again…
[Carter turns the gun on Daniel. O'Neill takes advantage of her distraction and jumps up. She turns and shoots him twice, knocking him back onto the couch. He screams, an inhuman screech, as two wounds on his chest begin to seep purple blood. Dead, the alien reverts back to it's normal self. Daniel and Maybourne look at the alien's body in horror. Carter approaches, then turns the gun on Daniel.]
DANIEL


(shocked)


What the hell is that?!
[The cockpit door opens and Major Davis looks out, sees the situation, and steps into the main part of the plane.]
CARTER


(to Daniel)


Sit down.
[He complies. Major Davis steps out of hiding and raises his gun as Daniel is sitting. Davis raises his gun at Carter. Davis is behind Carter, but Maybourne sees him.]
MAYBOURNE
Look out!
[Davis fires. Carter dives behind the couch while Maybourne rushes forward. Daniel collapses onto the couch, covering himself. Carter turns, and trains the gun on Davis. Davis howls the same inhuman scream O'Neill released and Carter shoots him twice. He also reverts. Maybourne and Carter both stand.]
MAYBOURNE


(holding his hand out for the gun)


Go check the pilot. He's one of mine.
CARTER


(turning the gun on him)


You first.
[Maybourne pulls something from his pocket as Daniel watches in shock. Using a knife on his keyring, Maybourne slices open the heel of his hand just below the thumb and begins bleeding red. He holds it up for Carter's inspection.]
MAYBOURNE


Good enough? I'll keep an eye on him


(motions at Daniel). Go!
[He holds his hand out for the gun. Carter hands it over and goes to the cockpit, picking up Davis' gun as she goes.]
INT—LEVEL 23
A close shot of O'Neill's face, covered by a spider-like mask. He appears to be unconscious, but suddenly awakens. He looks around, raising his head from the holder in front of it. A small M-shaped device is still on his forehead. He scans the room. Dozens of other people are around him, all hanging from the ceiling by glowing purple ribbons. Hanging next to him, he sees General Hammond's unconscious form and he grabs the man.]
O'NEILL
General?
[He gets no response and continues looking for a way down.]
INT—THE PLANE
[Carter is inspecting one of the dead aliens. She sees a small button attached to the alien's skin by some sort of goo and pulls it off, inspecting it.]
MAYBOURNE


(grimacing)


What is that?
CARTER
I don't know.
MAYBOURNE


(looking at Daniel, then grabbing him by the collar)


What is that damn thing?
DANIEL


(eyeing the gun)


I already told you, I didn't know that Jack was—
Maybourne


(tightens his grip and chokes Daniel)


Tell us how that thing works.
[Daniel smirks at the other man, then looks at Carter. She turns back to the alien and touches the purple blood, rubbing it between her thumb and forefinger. She sees a small, circular device on the alien's chest and removes it.]
DANIEL


(strained)


Sam…
[Turning the device over in her hands, she stands up.]
CARTER
Hold on a second.
[Maybourne releases Daniel. Daniel exhales, relieved. Carter approaches, pulling Daniel's shirt open to reveal his upper chest. He has a similar circular device, only this one has blue light running in a circle over the center. She pulls the device off and the alien returns to it's normal state. Carter and Maybourne both step back.]
CARTER


This is how they look like us.
(to the alien)


Where's the real Daniel? Is he still alive?
MAYBOURNE
You can talk to us now, or you can talk to my colleagues later. Either way, we'll find out the information we need.
[Carter looks down at the device she pulled off the alien. It's still glowing. She places it face-up in her palm and suddenly turns into Daniel. Maybourne looks at her. The alien stands to attack Maybourne, but he shoots it once. The alien falls back, groaning in pain.]
MAYBOURNE
Sit down!
[Carter/Daniel looks at herself and walks to a mirror, seeing Daniel's reflection.]
SAM/DANIEL


It works.
(removes the device and looks like herself again. As herself,)
It only creates an image; I couldn't hear Daniel's thoughts or anything.
(holds up the button she removed earlier)


That must be what this one does.
MAYBOURNE
Put that thing down, Major.
CARTER
I wonder what caused their images to blink out.
MAYBOURNE
They were just sitting there. Now put it down.
CARTER
Something interrupted both signals at the same time, Colonel. We should figure out what it was.
MAYBOURNE
We were leveling off…cabin pressure.
CARTER


(shakes her head)


This is electronic. It was more like interference. Noise from the engines, maybe. If we can replicate the conditions, sir, we can find it.
MAYBOURNE
All right.
EXT—SHOT OF THE PLANE LEVELING OFF
INT—LEVEL 23
[O'Neill is still trying to escape his prison, pulling fruitlessly at the harness he's in. He throws his hands up in disgust, then begins pulling at the ribbons holding him up. He bumps into Hammond and pats the man on the back.]
O'NEILL
Sorry, sir.
DAVIS


(gasping and sitting up)


What the…(looks at his harness)
O'NEILL
Who's that?
DAVIS


(looking in O'Neill's direction)


Major Davis.
O'NEILL


Colonel O'Neill.


(looks up and sees Dr. Fraiser in another harness)
DAVIS
What's going on? How'd we get like this?
O'NEILL
You're asking me?
[O'Neill looks down as they both hear a clanging noise outside. They go limp, pretending to still be unconscious. Dr. Fraiser enters, wheeling an airman into the room. She's accompanied by a human lookalike and an alien. They feed the unconscious airman into a large, shell-like machine. The airman emerges out the other side, attached to ribbons. Dr. Fraiser removes to devices that came through the machine, placing them on her alien companion. When she places the device on his chest, he assumes the image of the airman they just fed into the machine.]
FRASIER
Hook him up.
[The ribbons pull the airman to the ceiling with the other prisoners. Frasier turns to leave, then suddenly looks up. O'Neill returns his face to the holder, closing his eyes as she scans the prisoners. She looks them all over and, seeing nothing amiss, walks from the room.]
INT—A ROOM IN THE INFIRMARY
[Teal'c is strapped to a table, convulsing. The camera pans down to reveal he's shirtless, an exam table set up over his abdomen. Dr. Fraiser has the symbiote out, holding it in place while she prods with with a needle. She appears extremely frustrated by her progress. Hammond enters.]
HAMMOND
Report.
FRASIER


I thought the sedative might be interfering.
(sets down the needle and picks up another instrument)
The symbiote—
(she lights the instrument and the symbiote jerks away)
—is quite resilient. So is he.


(glances at Teal'c)
Hammond
Put him back in the holding cell. Major Carter is on her way back; she may be less resistant.
[Frasier nods once and puts her instruments away.]
INT—LEVEL 23
[O'Neill and Davis are both jerking and twisting, trying to escape their harnesses. O'Neill snaps the M-shaped thing off his head and drops it. Davis tries to do the same, but can't get it off. O'Neill finds a handgrip in the chest of the harness and pulls it, freeing himself. He drops painfully to the floor, grunting.]
O'NEILL


(trying to find Davis among the other prisoners)
Davis…the latch for that thing is—
(Davis falls to the floor)


You found it.
DAVIS


(pulls the thing from his head)


Sir, if there's another Fraiser, my guess is there's another you and me walking around, too.
O'NEILL


(finds a ladder and rolls it over to help others down)


Why are we the only ones awake?
DAVIS


(looking at the shell-machine Fraiser used to make the copy)
Maybe, uh…maybe it malfunctioned.
(sees O'Neill climbing the ladder and whispers,)


Colonel, what are you doing?
O'NEILL


(touching Fraiser's shoulder)
I'm going to wake her up.


(scans the harness)
DAVIS
Do you think that's such a good idea, sir?
O'NEILL
It's an' idea…
[He touches the M-shaped device and pulls it off.]
INT—INFIRMARY
[The alien Fraiser is walking across the room when she suddenly pauses, closing her eyes and tilting her head.]
INT—LEVEL 23
[A loud, metallic tone begins sounding, so O'Neill replaces the device on Frasier's head. The device reattaches and the alarm stops. O'Neill looks around.]
O'NEILL


(whispers)


Maybe they didn't hear that.
[Frasier approaches the room quickly, using her keycard to gain access. She enters, turning her gaze to her double. She's still there. O'Neill slips from behind the door and walks up behind her.]
O'NEILL
Excuse me.
[She turns and O'Neill decks her. Her head flies back, then she slowly straightens herself. Jack touches her upper arm and gently pushes her to the ground. He looks down at her.]
O'NEILL
That was weird.
EXT—NIGHT
[The forest outside the SGC. Carter works her way through the trees, gun in hand, to the hatch she originally used to escape the facility. She pauses, reaches down the front of her shirt and places the alien device on her chest. She turns into Daniel and opens the hatch. She looks down, securing the gun in the back of her belt before she begins climbing, pulling the hatch closed behind her.]
INT—LEVEL 23
[O'Neill and Davis are kneeling on the floor with the alien Dr. Fraiser between them. Davis is holding her up while O'Neill frisks her for weapons.]
O'NEILL


Nice alien like you has gotta carry a…(finds a gun and pulls it out)


Hello.
DAVIS
What about the other thing?
O'NEILL


(pauses, looking down at Frasier)


The other thing. Okay. She's just an alien…
[He touches the collar of her lab jacket, then begins to loosen her blouse.]
O'NEILL
Just an alien…
[He unbuttons her shirt halfway, then sees the blue lights flashing on the device below her undershirt. He reaches under and removes it, causing the alien to return to its normal state. Davis falls away, letting the alien fall. O'Neill moves quickly away, picking up the gun and aiming it at Frasier.]
O'NEILL
Whoa, whoa…Yeah, that's an alien, all right. We should find something to tie it up.
[They hear the doorlock being unactivated and jump up. O'Neill aims his gun at the door as Carter/Daniel enters. She sees him as well, raising her gun to him.]
O'NEILL
Hello.
SAM/DANIEL


(eyeing the ceiling)


Colonel?
O'NEILL
Yes?
SAM/DANIEL
It's you?
O'NEILL
Yes.
[Davis is watching nervously.]
SAM/DANIEL


(shrugs)
It's good to see you.
(looks to the ceiling again)


Oh, my God. I figured they had to be keeping you alive in order to access to your minds—
O'NEILL


(interrupting)
Whoa! Hey…(motions with his gun)


Who are you?
SAM/DANIEL


Sir?
(O'Neill motions again with the gun)
Oh. Sorry…(reaching into her shirt and removes the device, once again becoming Carter)

DAVIS
Major Carter.
[She nods at him.]
O'NEILL


(lowers his gun)


Oh. Well, in that case, it's good to see you, too.
CARTER
Every one of the people in this room have been duplicated by the aliens, sir.
O'NEILL


(turns and looks at Frasier)


Uh, noticed that.
CARTER
The procedure didn't work on me or Teal'c. We escaped, but Teal'c's been captured.
O'NEILL
Where's he?
CARTER
I don't know; I haven't had time to find him, sir. Look, Colonel Maybourne's forces are moving in soon.
O'NEILL
Maybourne?! How'd he get—
CARTER
I called him.
O'NEILL
Willingly?
CARTER


(checks her watch)


Colonel, in 29 minutes, those forces are going to break down the front door and shoot anything that resists. We need to get our people disconnected.
O'NEILL
Yeah, I pulled that headband thing off of Fraiser; her evil twin came running.
CARTER


(looks at O'Neill and Davis)


Well…how did you two get free?
DAVIS


(shrugs)


We just woke up.
CARTER


(muttering)


It must have happened when I killed you.
O'NEILL


(raising his eyebrows)


I'm sorry?
CARTER
I…killed the aliens impersonating both of you on the plane.
O'NEILL
And they don't know you did this?
CARTER
I don't know, sir. There's a specific tone that, if sustained, will distrupt these devices. The machine's in my lab.
O'NEILL
Go.
[Carter nods and reattaches the device to her chest. Daniel's image returns. She exits the room, leaving the door open.]
DAVIS
Sir, we're going to need more weapons.
O'NEILL
Armory.
INT—CARTER'S LAB
[Carter/Daniel is going through a drawer and removes a small box, sitting it on the desktop. She then removes a speaker and wires it to the box. He turns on the small box, picking up a tape recorder and playing sounds that were recording while on board the plane.]
INT—ARMORY
[O'Neill checks a weapon, then hands it to Davis.]
O'NEILL
Head on back to 23. Keep an eye on our people.
[He hands Davis a zat and, taking one for himself, walks off.]
DAVIS
Yes, sir.
INT—HOLDING CELLS
[O'Neill approaches and eyes the two guards on duty.]
O'NEILL


(monotone)
I've come for the bald prisoner.
(The guards begin to unlock the door and O'Neill raises his eyebrows, surprised his plan worked. They open the door and he enters, approaching Teal'c with a zat in his hand. Teal'c is sitting on his bed, his right arm bandaged.)


You will come with me.
TEAL'C
I will submit to no further experiments.
O'NEILL


Oh, but you will.
(Teal'c looks up at him and O'Neill cocks his eyebrow. To the guards,)


I'll take it from here.
GUARD
I can't allow that, sir.
O'NEILL
Oh, but you can!
[He turns and zats them both. He walks over to them, rifling their pockets.]
TEAL'C


(almost smirking, standing up)


Colonel O'Neill, I presume.
O'NEILL


(returning with keys and removing Teal'c's restraints)


What gave it away?
INT—CARTER'S LAB
[Sam/Daniel is adjusting the loud tone from the plane, watching her hand as she changes the frequency. Suddenly, the image of Daniel's hand jerks and flickers.]
SAM/DANIEL
That's it.
[She removes the device and becomes herself again. Checking her watch, she sees there's only two minutes and fifty-six seconds before Maybourne's team attacks. She picks up the speaker and recorder and carries it across the lab, placing it next to a PA system. She's getting it set up when the doors slide open and General Hammond enters.]
CARTER
General Hammond.
[She activates the tone and the image fades, turning into that of an alien. It moves toward her, backhanding her and sending her across the room. She crashes into a rolling table and hits the floor. He approaches, but is interrupted by the intercom.]
INTERCOM
General Hammond to control.
[He looks up, then down at Carter before turning and leaving the lab. Carter picks herself up, goes to the desk and picks up her gun. She slaps the intercom as she's leaving, activating the tone that will disrupt the alien's signals.]
INT—HALLWAY
[Three airmen are walking down the hallway, armed. The tone begins and their images flicker out. They continue walking.]
INT—HALLWAY
[O'Neill and Teal'c turn a corner.]
O'NEILL


(patting Teal'c on the shoulder)


You sure you're up to this?
TEAL'C
As always.
O'NEILL
You're an animal.
[Two aliens come around the corner ahead of them. O'Neill and Teal'c duck behind a wall as the aliens open fire. They shoot at each other for a moment, then Teal'c hits one with a shot from the zat. O'Neill hits the other with his revolver.]
INT—CONTROL ROOM
[The entire room is swarming with aliens. One runs in and approaches a security monitor. Maybourne's forces are on the screen, slipping into the base in full combat gear. The alien angrily orders something in it's native language and the Stargate begins to dial. The lead alien then begins to howl loudly, the sound carrying through the PA system. Aliens all over the base freeze, turning in the direction of the sound and begin running back towards control.]
INT—HALLWAY
[O'Neill and Teal'c are doing battle with five aliens. They manage to stop three of them, but the high-pitched squeal causes the other two to run away.]
O'NEILL
What the hell was that?
CARTER


Colonel!
(running up from behind him)


On your six. What's going on?
O'NEILL
I don't know…They just ran.
TEAL'C


Perhaps there is an evacuation.


(all stand)
CARTER
Well, we can't let that happen, sir.
O'NEILL
Why not?
CARTER
They've had access to our minds; they know everything about us.
O'NEILL
Everything?
CARTER
Everything.
[Teal'c looks at O'Neill. O'Neill nods and they run down the hall.]
INT—CONTROL ROOM
[The alien is still punching in the address, apparently upset that it's taking so long. The Stargate finally activates and the aliens leave the control room.]
INT—GATE ROOM
[The aliens are gathering at the Gate, filing one at a time into the event horizon.]
INT—CONTROL ROOM
[Two aliens that are left behind are zatted. O'Neill, Carter and Teal'c enter. O'Neill and Carter move to the computers while Teal'c searches for more aliens lagging behind the others.]
O'NEILL
Close that iris!
CARTER
I can't, sir. It's over-ridden. I'm shutting down the Gate.
[Carter types a command and then looks into the Gate room. Two aliens have just entered and the door closes behind them. They look at it, then each other. In the control room, Maybourne's forces rush in. Teal'c raises his zat at them.]
MAYBOURNE
Everyone freeze!
[O'Neill raises his hands off the keyboard. Carter finishes typing a command, then quickly does the same. One final alien makes it through the Gate before it's shut down, leaving the others stranded. One alien, apparently, the leader, looks up at the control room and grunts angrily. It walks to the ramp, turning to face the windows and turns something on it's chest before it begins speaking.]
ALIEN
(speaks in deep, guttural grunts and clicks)
[O'Neill, apparently having heard enough, lowers one of his hands and slaps a button. The blast doors lower. When the doors are almost in place, a brilliant flash explodes in the Gate room. Everyone is forced to shield their eyes, turning away from the flash. O'Neill hits the button again and the blast doors slowly rise, revealing the Gate room. The aliens have self-destructed. Carter stands, examining the damage. Black soot marks the back wall and the Gate. Smoke is rising from the remains of the alien beings as ash falls from the ceiling.]
MAYBOURNE
What happened?
CARTER
They self-destructed.
TEAL'C
The destruction appears to be complete.
CARTER


(nods)


That's a lot of damage.
O'NEILL
Coat of paint. A little touch-up…it'll be fine.
INT—CONTROL ROOM
[SG-1, Dr. Fraiser and Major Davis are all in attendance.]
HAMMOND
I've ordered P3X-118 locked out of our dialing program.
CARTER
The human counterparts of those aliens woke up spontaneously. We're assuming the signals stopped when they went through the Stargate.
TEAL'C
Those who escaped still possess the knowledge they obtained from being linked to your minds.
O'NEILL
That's creepy.
HAMMOND
We changed all our codes. That's all we can do.
DANIEL
So…how did this happen, exactly? The aliens came through the Gate already impersonating SG-6?
FRASIER
We rushed them to the infirmary. We don't remember anything after that.
DAVIS
General Hammond asked me to come here, but he wouldn't say why. Presumably, their next step after the SGC was the Pentagon.
CARTER
Well, a high-frequency blast from the harmonic generator every time a team returns should prevent it from happening again.
[Maybourne enters.]
O'NEILL


Colonel Maybourne.
(Pause)


Good save.
MAYBOURNE
I thought you'd like to know the alien posing as Dr. Jackson expired.
TEAL'C
What of the aliens that were not caught in the Gate room explosion?
MAYBOURNE
We're guessing they were linked to their leader in some form or another when he self-destructed.
CARTER
What about the aliens that escaped through the Gate?
MAYBOURNE
I guess we'll never know. We'll have to hope the same thing happened to them.
[Carter nods.]
HAMMOND
We appreciate your help on this matter, Colonel Maybourne.
MAYBOURNE


(straightening)
Credit Major Carter. I do.
(Carter and O'Neill both looked shocked at this)


Well. I'm sure we'll see each other again.
O'NEILL
That'd be nice, Harry.
Maybourne looks surprised at the use of his first name, then looks at Carter. She nods once at Maybourne and he returns the gesture. Maybourne leaves. Carter looks down at the table, then looks at O'Neill, smiling proudly.
FADE OUT
THE END
Transcribed by Geonn Cannon for Stargatefan
Related Articles
Related Links
Official
Fan
---
--Kylie Lee 15:14, 12 Sep 2004 (PDT)