SGU 1.18 "Subversion" Transcript
Jump to navigation
Jump to search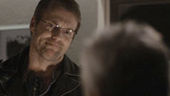 Episode Guide
SGU 1.18 "Subversion" Episode Guide
Précis
Col. Telford is suspected of espionage after Dr. Rush has a disturbing dream about a covert meeting with the Lucian Alliance. Col. Young investigates the matter with the help of Gen. Jack O'Neill and Dr. Daniel Jackson.

Guide | Transcript
Transcript
TEASER
EXT—SPACE
[Destiny flies faster than light.]
INT—RUSH'S QUARTERS
[Rush is asleep in his quarters. He is restless as he dreams in strange flashes about a safety deposit box labeled 314, a warehouse roof, a woman (Kiva) in a dark vehicle and others, including a large man (Varro) near a Jeep SUV. He awakens, gasping. He drinks some water.]
INT—YOUNG'S QUARTERS
[Young sits at his desk writing. Rush knocks and enters.]
YOUNG
You're up late.
RUSH
Yeah. I just had a very interesting dream.
YOUNG
Everyone thinks their dreams are interesting. Nobody else cares.
RUSH
Yeah, well, you're going to care about this one.
[He shuts the door and starts pacing the room.]
RUSH
I'm outside a warehouse…on Earth. And there's birds. At least I can hear them. Seagulls, I think. I'm at some kind of meeting. There's four or five people there.
[As he speaks he flashes to the dream. The roof is there. He gets out of a car and walks towards others. A large man, Varro, gets out of the passenger side of the Jeep and faces him.]
YOUNG


(bored)


Who?
RUSH
I don't know. I don't know. But I'm giving them information. Reports, files. I'm talking about Icarus! In detail.
[In his flashback, he hands Varro a briefcase full of files. Varro hands off some photos to a woman sitting in the backseat of the Jeep.]
YOUNG


(intrigued despite himself)


Well, who are they?
RUSH
I don't know. I…
[Rush flashes again. He is looking at Varro, seeing his vehicle behind him. Parked between two warehouses is a tel'tak.]
RUSH
They had a Goa'uld cargo ship.
YOUNG
The Lucian Alliance on Earth?
RUSH
I can only guess.
YOUNG
You dreamt you were the spy that leaked everything about Icarus to the Lucian Alliance?
RUSH
No, not me. It wasn't me!
YOUNG


(bewildered)


Rush, what the hell are you talking about?
RUSH


(remembering)


On the way back to the car, I see my reflection. It was Colonel Telford. I was Colonel Telford.
END TEASER
OPENING CREDIT
INT—YOUNG'S QUARTERS
[Young speaks with Scott.]
YOUNG
Rush switched with him two days ago. The only reason I am telling you is because you are the only person who's ever experienced this kind of "bleed-through memory" after using the stones.
SCOTT
It was just that once, sir. Certainly nothing like that.
YOUNG
Thanks, Lieutenant.
[Scott turns to go, but then walks back.]
SCOTT
All right, look, sir. I understand that you have your issues with Colonel Telford, but you cannot serious—
YOUNG


(cutting him off)


Sit down, Lieutenant.
[They both sit.]
YOUNG
Before he was assigned to Icarus, Telford spent the better part of a year undercover, infiltrating the Alliance.
SCOTT


(scoffing)


You-you really think he would turn?
YOUNG
Eight months into his assignment, there was an attack on a planet that we had a large team working on: P2S-569. Thirty-seven people were killed. Now, we later found out that Telford knew about the attack, and decided to do nothing.
SCOTT
In order to protect his cover.
YOUNG
That's what he said. Stargate Command let him off the hook. And everything was swept under the carpet. But now…
SCOTT


(standing)


Sir, there's got to be more to it than that.
YOUNG
We know that the Goa'uld had brainwashing technology that could make a man turn against his mother and be proud of it. It is possible the Alliance now has that capability.
SCOTT
Well, if they do, sir, then we can't trust anyone.
INT—CONTROL ROOM
[Young enters. Eli and Rush are working.]
ELI


(enthusiastic)


Colonel, hey, we were just going over some of the data we found wh—
YOUNG
Take a break, Eli.
ELI


(incredulous)


Secrets? You two…?
YOUNG
Now. Please go.
ELI
O…kay.
[Eli leaves.]
YOUNG
So I talked to Scott. He doesn't remember anything like your dream.
RUSH
Well, we have to do something.
YOUNG
Agreed.
RUSH
Telford's still on active rotation with the stones, yeah?
YOUNG
Mm-hmm.
RUSH
He's due to make a connection in a couple of days with Dr. Morrison. What if I take Morrison's place?
YOUNG
And do what?
RUSH
Try to make contact with the Alliance.
YOUNG
It's risky.
RUSH
Well, it's a pretty good disguise, actually being inside someone else's body.
YOUNG
I'll go.
RUSH
No, that would be a mistake.
YOUNG
Why is that?
RUSH
Because I had the dream. Look. There's still elements I'm trying to piece together. For example, there's a number: 314. Now, I know that's significant, but I don't know why. If I'm there, in Telford's environment, then…
YOUNG
You're not trained for this.
RUSH
Well, who is? I'll just have to do my best.
YOUNG
If Stargate Command is this badly compromised, I can't tell anyone what you're up to. Do you understand that?
RUSH
Yep.
YOUNG
Once you are on Earth, you are on your own.
RUSH
I understand.
YOUNG
No backup.
RUSH


(cross)


I get it, I get it. Now, someone has to stop this guy. He can't be allowed to continue. The Alliance probably already know more about this ship than we do.
YOUNG
Which isn't much.
RUSH
Well, I wouldn't underestimate them.
YOUNG
I'm not.
INT—CORRIDOR
[Wray meets up with Young in a corridor.]
WRAY
Colonel, I need a minute.
YOUNG
That's about all I got right now.
WRAY
Did you bump Dr. Morrison from his spot on the communication stones?
YOUNG
Yes.
WRAY
Without consulting me?
YOUNG
Yes.
WRAY
Any particular reason?
YOUNG
Yes.
WRAY
Do you care to enlighten me?
YOUNG
No.
[Wray puts her hand on his shoulder, stopping him.]
WRAY
With everything that we have been through, you really want to do this?
YOUNG
Look, Camile, I've got good reason not to tell you, or I would. You're going to have to trust me.
[He leaves her standing in the corridor.]
EXT—PENTAGON, ARLINGTON, VIRGINIA, DAY
INT—HOMEWORLD SECURITY STONE LAB
[Rush opens his eyes, now in Telford's body. Graham stands nearby.]
GRAHAM
Doctor Morrison?
RUSH/TELFORD
Yes.
GRAHAM
Welcome back. I'm Staff Sergeant Graham. I'll be your escort.
RUSH/TELFORD
Right.
INT—DESTINY COMMUNICATIONS ROOM
[Telford opens his eyes and looks around. He sees Riley, Greer, and Scott standing nearby. He notices his clothes, then looks in the mirror to see he is in Rush's body.]
TELFORD/RUSH


(angry)


I want to talk to Colonel Young. Now.
SCOTT
He is busy at the moment, sir. He said he'd come and see you shortly.
TELFORD/RUSH
Why was I connected with Dr. Rush? That wasn't part of the schedule.
SCOTT
Yes, sorry about that, sir. It was unavoidable.
TELFORD/RUSH
Why?!
SCOTT
Dr. Rush had to consult with some people back on Earth regarding some…technical problems.
[Telford looks between Scott, Riley, and a smirking Greer.]
TELFORD/RUSH
You're a terrible liar, Lieutenant. I'd like some fatigues.
SCOTT
No problem. This way, sir.
[He leads Telford out. Greer follows. From a hidden corner outside the room, Young watches them leave, then sneaks into the room. He takes a stone and places it on the active pad.]
INT—HOMEWORLD SECURITY STONE LAB
[Young is in a civilian technician's body. He immediately stands and heads to the SF.]
YOUNG/TECH
I need to speak to General O'Neill. Immediately.
GUARD
And you are?
YOUNG/TECH
Colonel Everett Young, Authentication 1619414. Tell him it's urgent.
INT—O'NEILL'S OFFICE
[O'Neill leads Young into his office.]
O'NEILL
Everett, I'll have you know I'm missing a national security briefing for this.
YOUNG/TECH
Sorry about that, sir.
O'NEILL


(drily)


Well, if you'd ever been to a national security briefing, you wouldn't say that.
[O'Neill sits behind his desk.]
O'NEILL
What's up?
YOUNG/TECH
It's Doctor Rush, sir. He's on Earth right now in the body of Colonel Telford, probably hasn't even left the building.
O'NEILL
So?
YOUNG/TECH
We need to put a tail on him.
O'NEILL
Well, he's got an escort!
YOUNG/TECH
He'll ditch the escort first chance he gets, sir. I think we should let him do it, then follow him discreetly.
O'NEILL
Why?
YOUNG/TECH
He's about to try and make contact with the Lucian Alliance.
EXT—SPACE
[Destiny flies faster than light.]
INT—MESS HALL
[Several crew members are gathered together for a baby shower for TJ. She opens presents.]
TJ
Aw, Chloe! Oh, my god.
CREW MEMBER
What is it?
[TJ holds up an infant one-piece outfit sewn with the words "Property of US" and the Air Force emblem visible. Eli takes pictures with his iPhone.]
TJ
Aw, Chloe. I didn't know you could sew.
CHLOE


(modestly)


Oh, no, I can't. Not really. I hope it doesn't fall apart.
TJ
No, no, it's beautiful. Thank you.
CHLOE
You're welcome.
RILEY
Here. Open this one.
[He gives her a box. Volker comes up to Eli.]
VOLKER
Hey, can we talk to you for a second?
[TJ opens Riley's present. It's a metal toy truck he's cobbled together from spare parts.]
TJ


(awed)


Oh my gosh. You made this yourself?
RILEY
If it's a girl, I can make something else.
TJ
No, it's perfect. Thank you…
[Eli joins Volker and Brody in the corridor outside the mess hall.]
ELI
What's going on?
VOLKER
We're hoping you could tell us.
BRODY
About Rush. Going back to Earth on the stones unscheduled?
ELI
Well, I'm-I'm sure there's a good reason.
VOLKER
Right, yeah, that's what we were afraid of.
BRODY
He didn't say anything to you?
ELI


(sighing)


Young came in to talk to him the other day…He did kick me out.
BRODY
Yeah, we heard Young went, too.
ELI


(shocked)


He did?!
BRODY
After Rush. He's there right now.
VOLKER
Something's definitely going on here.
[They watch as Telford, now dressing Rush in fatigues, enters and walks up to TJ's table, where Wray is talking to TJ.]
TELFORD/RUSH
Congratulations, TJ. Camile, if I could have a moment of your time, please?
[They start to walk out of the mess hall.]
TELFORD/RUSH
Were you aware that…
[Brody, Volker, and Eli hurriedly pretend to engage in conversation as they walk past.]
VOLKER
Yeah, we could check those, er…
BRODY
Control interface room probably has something…
ELI
Yeah, I could meet you guys…at the, um…
VOLKER
That'd be great.
BRODY
Sure.
[They fall silent after Telford and Wray pass.]
INT—O'NEILL'S OFFICE
YOUNG
If I'm not mistaken, sir, I believe you witnessed the effects of this brainwashing technology firsthand?
[O'Neill toys with a tea bag in his mug.]
O'NEILL
Yeah. Yeah, that's…that's true.
YOUNG/TECH
I recommend we keep the number of people we bring in on this to a minimum.
O'NEILL


(irked)


Well, thank you, Colonel, for stating the obvious. Truth is, you took a bit of chance by telling me, didn't you?
YOUNG/TECH
Well, I had to sir. Rush was asking for a free pass—an unscheduled, unauthorized visit to Earth; exactly the sort of the thing he might do if he was the mole himself.
O'NEILL
Well, if he's the mole, why would he be trying to frame Telford at this point?
YOUNG/TECH
I can't answer that, sir.
O'NEILL
And if he's telling the truth?
YOUNG/TECH
Hopefully, he'll still be able to lead us to the Alliance.
O'NEILL
And not lose his life.
YOUNG/TECH


(sincerely)


Yes, sir.
EXT—MORRISON'S APARTMENT BUILDING, DAY
[Graham pulls up the car in front of the building. Rush is in the car, still dressed in Telford's fatigues.]
RUSH/TELFORD
I've got quite a few personal things to attend to. I'll be a few minutes.
GRAHAM
Not to worry, sir. I came prepared.
[He holds up a book: John Scalzi's "Old Man's War". Rush gets out of the car and heads inside.]
INT—MORRISON'S APARTMENT BUILDING, DAY
[Rush looks outside. Graham is already engrossed in his book. Rush acts as if he's about to go in the elevator. A woman stops between the car and the building's door to check on her baby in its stroller. Rush takes the opportunity to head down the fire stairs. He goes through a maintenance corridor and out the back door, checking the alley.]
EXT—ALLEY BEHIND MORRISON'S APARTMENT BUILDING, DAY
[Rush looks around to make certain he's not being followed, then heads to the far street. He does not notice Daniel Jackson watching him from a car.]
EXT—TELFORD'S HOME, DAY
[Rush pulls up in a taxi. The taxi leaves as Rush wanders around outside. He spots a window away from the street and breaks it.]
INT—TELFORD'S HOME
[Rush wanders the home, going through mail, spotting a picture of Telford and two other military men arm in arm at a rocky location. He goes through bills, cabinets, files. Drawing a blank, he sits at Telford's desk. Suddenly, he's inspired to check a wooden candle holder; it rattles when he shakes it. Inside, hidden, is a safety deposit box key to number 314. He goes through the statements he'd looked at and spots one to a bank: District of Columbia Mutual.]
EXT—DESTINY OBSERVATION DECK
[Young approaches. He spots Telford and Rush speaking quietly near the balcony.]
TELFORD/RUSH
So, do you know what they're going to do to Rush?
WRAY
They didn't let me know until after the fact. They're trying to keep me out of the loop. It's not—
[She breaks off as they see Young approaching them.]
TELFORD/RUSH
Where the hell have you been?
YOUNG
It's nice to see you, too. Come with me. We have some things to discuss.
TELFORD/RUSH
Do we?
YOUNG


(pointedly)


Privately.
[Telford leaves. Wray glares at Young as he follows Telford; Young smiles mildly and leaves.]
INT—DISTRICT OF COLUMBIA MUTUAL BANK DEPOSIT ROOM
[The banker leads Rush to a deposit box review room.]
BANKER
We haven't seen you in a while, Colonel. I hope everything is well.
RUSH/TELFORD
I've been on assignment.
BANKER
Of course.
[He waits, looking back over his shoulder. She takes the hint.]
BANKER
I'll give you some privacy.
[She pulls the curtains shut. Rush opens the box. All that is inside is a Verizon cellular phone. Rush finds the list of recent calls and notes they are all to the same DC number. He dials it back.]
VARRO


(over phone)


Yes?
RUSH/TELFORD
Yeah, this is Telford. I-I have some new information. We have to meet.
[There is a long pause.]
VARRO


(over phone)


Stand by for instruction.
EXT—WASHINGTON DC STREET, DAY
[Rush waits outside the bank. A black van pulls up, and a door opens.]
VARRO
Get in.
[Rush climbs inside, and the van drives off.]
INT—DESTINY STILL ROOM
[Young pours Telford and himself drinks.]
TELFORD/RUSH
You're allowing alcohol on board now?
YOUNG
I doubt I could stop it if I wanted to.
[Telford sips at the drink, grimacing at the taste. Young downs his in one gulp.]
TELFORD/RUSH


(sarcastically)


So I can report your command of this ship is solid as ever, then.
YOUNG
I am doing my best to make it work.
TELFORD/RUSH
Why did I connect with Rush?
YOUNG
Oh, we'll get to that. I think we need to, uh, clear the air a little bit.
[Telford finally downs his drink.]
YOUNG
Have another.
[He starts to pour, but Telford holds his hand over the beaker.]
TELFORD/RUSH
I'm on duty. You're on duty.
YOUNG
Yes, and we're both a…billion light years away from the nearest disciplinary hearing. So, what? You're afraid of what you might say?
TELFORD/RUSH


(smiling)


I don't have anything to hide, from you or anyone else.
YOUNG
Is that so?
TELFORD/RUSH
I could've brought you up on charges for assaulting a fellow officer. You should just thank me and let it go.
YOUNG
Well, I think we both know that, uh, you don't want the details of that little incident getting out any more than I do.
TELFORD/RUSH
You cheated on your wife, and she moved on. End of story.
YOUNG


(smiling wolfishly)


You took advantage to get back at me on a personal level.
[Telford laughs heartily.]
TELFORD/RUSH
You were sleeping with an officer under your command! I mean, look at you, Everett, you're a disgrace!
YOUNG


(smiling)


But I'm here. Right? And that's…uh, that's what's killing you, isn't it? Because this was supposed to be your prize, your reward for all that hard work. An entire year living with those criminals, thieves, murderers, pretending to be one of them. I mean, that's, uh, got to take its toll.
[Telford gives Young a penetrating look, then stands.]
TELFORD/RUSH
I'm not doing this again.
YOUNG
The man I used to know would not let thirty-seven people die to cover his own ass. So, what changed? What happened to you, David?
[Telford's bemused smile falters. He sobers and gives Young a sidelong look.]
TELFORD/RUSH
Thanks for the drink.
[He leaves.]
YOUNG


(low, into radio)


Scott…
EXT—WAREHOUSE DISTRICT, DC AREA, DAY
[Telford and the other men get out of the van above a dilapidated dock and near warehouses. This is the place Rush remembers from his dream.]
RUSH/TELFORD
What are we doing?
VARRO
We're waiting. What else?
[From the other side of the warehouse, Daniel spots a ladder and climbs it to the roof. From there, he takes pictures of the Alliance group using a digital SLR camera with a large zoom lens. He hear's O'Neill's voice over his ear piece.]
O'NEILL


(over radio)


Daniel, come in. Do you read?
DANIEL


(into radio, in a long-suffering tone)


Jack. What is it?
[The conversation switches from Daniel's position to O'Neill's office.]
O'NEILL
Carter says they're using some kind of jamming device. We can't get a lock on anyone in the area. What's your status?
DANIEL
They've stopped. It looks like we're waiting on someone.
O'NEILL
Well, ground assault is standing by. They'll move when you call it.
[The black jeep drives up. It has Maryland tags.]
DANIEL
Hang on.
[Daniel takes pictures of a tall woman, Kiva, and two men getting out of the new vehicle.]
KIVA


(to Rush/Telford)


Who are you?
RUSH/TELFORD
I'm sorry. I don't know what you mean.
KIVA
All right. Who am I?
[Rush blinks at her.]
KIVA
Whoever you are, you must be using the Ancient Communication Stones.
RUSH/TELFORD
I don't know what you're talking about.
KIVA
You failed to use the proper code when you called in. Colonel Telford would never make such a mistake.
[The man behind Rush hits him with an alien device, pronged like a Goa'uld pain stick. It zaps Rush with a red charge. He cries out and collapses. Kiva hits a remote, and a tel'tak uncloaks.]
DANIEL


(into radio, voice tight)


His cover's blown. Move in. Move in now. They have a ship.
[The men drag Rush to the ship. Government SUVs rush the area. Daniel climbs quickly down the ladder to ground level, pulling a sidearm, but he hears the ship's engine spinning up. He joins the assault team, but there is no one, and no ship around.]
DANIEL
Yeah…we're too late.
INT—MESS HALL
[TJ is alone in the room, crying. The decorations from the shower still hang, and TJ's presents surround her. Chloe enters.]
CHLOE
You okay?
TJ


(wiping tears)


Yeah. I'm fine… What chance does this baby have of ever living a normal life?
CHLOE
What's normal anyway?
TJ


(sighing a laugh)


I don't know, but I don't think it's this.
[Chloe sits next to her.]
CHLOE
Look, I know right now it seems…impossible that we will ever make it back. But I also know that since we've been here, it seems like we're averaging about five impossible things a week, right?
[The both weakly laugh.]
CHLOE
So, why assume the worst? Look, at the very least, there are a lot of people here who are going to care about that baby. That's something.
TJ
Yeah.
CHLOE
We are all going to help you.
TJ
Thanks, Chloe. Come here.
[They hug.]
EXT—PENTAGON, ARLINGTON, VIRGINIA, DAY
INT—O'NEILL'S OFFICE
[Daniel hands O'Neill prints of the photos he took. Young, back in the tech's body, is also there.]
DANIEL
According to our intelligence, her name is Kiva. She's the daughter of a Lucian Alliance warlord named Massin, one of the higher-ups. Powerful and brutal.
YOUNG/TECH


(skeptical)


That intel come from Telford?
O'NEILL
Yeah, well at least we know who the mole is, eh?
DANIEL
There's an easy way to end this. We cut the connection on the stones.
YOUNG/TECH
They get Telford back. We're no closer to figuring out what they're up to.
DANIEL
Dr. Rush's life is in danger.
YOUNG/TECH
He volunteered. He knew the risks.
[Daniel blinks and gives a frustrated sigh.]
DANIEL
That cargo ship slipped past all of our sensors. We have no idea where it's going.
YOUNG/TECH
Telford might, and he may know more. I'm just asking for the chance to get it out of him.
[O'Neill looks to Daniel.]
DANIEL


(to O'Neill)


He still has rights, doesn't he?
O'NEILL
He didn't say how he was going to do it.
YOUNG/TECH
With all due respect, sir, you and I both know the people who made the rules were not prepared for anything like this.
[Young leaves. Daniel and O'Neill exchange looks, Daniel grimacing briefly.]
EXT—SPACE
[The tel'tak flies through hyperspace.]
INT—TEL'TAK HOLD
[Rush awakens to find himself shackled to metal chains that prevent him from getting up or lifting his hands. He struggles to sit up.]
KIVA
I'm sorry. I know that really hurts.
RUSH/TELFORD
Well, I suppose it was worth it. I had to make it look good.
[She looks at him with surprise.]
RUSH/TELFORD
Of course, I didn't give them the code on purpose. I'm not a complete idiot.
KIVA
"On purpose"? What are you talking about?
RUSH/TELFORD
They were getting suspicious.
KIVA
Yes, I was beginning to have concerns about that myself.
RUSH/TELFORD
Well, that's why I had to come in. I wasn't sure whether I was being followed. I figured that if they thought I was being taken by force, it might help us salvage something from this operation.
KIVA
Nice try. You almost managed to make that sound convincing.
RUSH/TELFORD
Well, it sounds convincing because it's true.
KIVA
If you really are Colonel Telford, you'll know my name.
RUSH/TELFORD
It's Kiva.
KIVA
Good. Next question. What's yours?
INT—TELFORD'S GUEST QUARTERS
[Telford and Young are alone in quarters, which is really a spare cargo room. Greer stands guard outside.]
TELFORD/RUSH


A spy? A Lucian Alliance spy?
(cackling, raising his voice)


You are so desperate to get back at me that you would say or do anything, wouldn't you?
YOUNG
We have proof.
TELFORD/RUSH
Oh come on, Everett, this is all about me and Emily.
YOUNG
Well, how do you think I found out about that? You switched bodies with Scott, do you remember that? Yeah. He's the one who told me. He saw it, in his mind, a vision. Call it residual memory, whatever you want. It seems that every time you use the stones, you leave a little something behind. Maybe…maybe that's guilt. Maybe, deep down inside, you want the truth to come out.
[Telford steps closer.]
TELFORD/RUSH
You're insane.
YOUNG
Well, you've already confessed. You just won't admit it.
INT—CORRIDOR OUTSIDE TELFORD'S QUARTERS
[Young leaves the room, the door sealing behind him.]
YOUNG
We'll let him sweat a while.
GREER
Give me a shot, sir. It won't take long.
YOUNG
Appreciate the enthusiasm, Sergeant. Not yet.
[Young leaves. Greer looks through the door window. Telford glares back from inside.]
INT—TEL'TAK CARGO HOLD
[Rush screams in agony as that same device as before is applied to him by one of the men. His body shudders as if zatted or electrocuted.]
KIVA
I would really prefer not to have to do this. I wish I had time to convince you that I am not what you think I am.
RUSH/TELFORD


(breathless)


Oh yeah? What's that?
KIVA
I'm a reasonable person just trying to do what's right for my people.
RUSH/TELFORD
You make a terrible first impression.
KIVA
We have brainwashing technologies. I could try those, but I'm not sure what they'd do to you under the circumstances, with your consciousness in somebody else's body. Unfortunately, I've learned one thing about torture over the years, it's…effective.
[She looks to Dannic. The torture device is applied to Rush again and he screams, curling into a fetal position to try to escape the pain.]
KIVA
Barbaric, I know, and I hate lowering myself to this level, but I need to know who you are. And beyond that, whether or not you're any use to me.
[The device is applied again. Varro watches a moment, then leaves. Kiva glances back but it is unclear if she knows he was there.]
INT—DESTINY CORRIDOR OUTSIDE GUEST QUARTERS
[Scott has joined Greer outside the door. Young approaches.]
SCOTT


(worriedly looking in)


Has he been given any food or water?
YOUNG
Open it.
SCOTT
Sir, maybe I should go in there with you…
YOUNG
No, no. That will not be necessary, Lieutenant. This is on me, only me. Open it.
INT—TELFORD'S GUEST QUARTERS
[The door seals behind Young.]
TELFORD/RUSH
You can't keep me in here forever.
YOUNG
No one's pulling the plug on the stones, so, why don't you just admit what you did, and we can move on?
TELFORD/RUSH
I want to talk to Scott. I have a right to face my accuser.
YOUNG
Oh, this didn't come from Scott. You switched with Rush, remember?
TELFORD/RUSH


(incredulous)


Rush? This is coming from Rush?!
YOUNG
At first, I didn't believe him either. I figured I'd give him enough rope to hang himself, but guess what? That didn't happen.
[He unfolds an 8 x 10 photograph of a group of personnel smiling in a conference room on Icarus Base. Telford picks it up.]
TELFORD/RUSH
What's that?
YOUNG
Airman Dunning brought it along with his personal effects. Do you recognize them? They were all stationed on Icarus, the fire suppression team. They got trapped during the attack when a corridor collapsed. They all burned alive…every last one of them.
[Telford drops the photo and storms away, upset. Young picks it up and holds it up.]
YOUNG
No, no, no, no. No. No. You take a good look. You take a look. I want you to take a look at their faces, because you killed them. You killed them as if you doused them with gasoline and lit the match yourself. And they weren't the only ones. So, we know that you are a traitor and a murderer. Now we know you're a coward, too.
[Telford starts beating up Young. They struggle. The door opens and Greer enters, pulling Telford off and then beating Telford/Rush himself. Scott rushes in behind him.]
SCOTT
All right, that's enough! Stand down, Sergeant. I said stand down!
[Scott struggles to pull Greer back, finally getting him off Telford, who's bleeding from his mouth and has a swollen eye from repeated strikes by Greer.]
YOUNG
Get out, both of you!
SCOTT


(protesting)


Sir!
YOUNG


(screaming)


Get out!
[Young walks them to the door. Greer reseals it after they leave. Telford can barely roll over, still looking stunned from the beating. Young sighs.]
YOUNG


(calmly)


Okay. So…where were we?
INT—TEL'TAK CARGO HOLD
[Rush screams through another session with the torture device.]
KIVA
This will eventually kill you.
RUSH/TELFORD


(bitter and breathless)


You'd be killing Telford, too.
KIVA
That might just work out for the best given that he's been compromised. I have a full rundown of the personnel aboard Destiny. Now, I doubt very much that civilians or the scientists would have endured this. So the question is: whether or not Colonel Young would have put himself in this situation, or…sent his First Lieutenant Scott?
RUSH/TELFORD


(hoarse)


How do you know I'm someone aboard Destiny?
KIVA
That's a fair question.
[Rush is struck again with the device, this time in the chest.]
KIVA
You can make this stop.
RUSH/TELFORD


(gasping, desperate)


If I answer your question, you're going to kill me. Either way, I'm dead.
KIVA
I won't. You have my word. You have nothing to lose.
[She nods to Dannic. He approaches with the device. He pulls Rush onto his back.]
RUSH/TELFORD
I'm Rush!
[Dannic pauses. Kiva's eyes widen.]
RUSH/TELFORD


(crying in defeat)


I'm Doctor Nicholas Rush!
INT—TELFORD'S GUEST QUARTERS
[Telford spits out some blood and struggles to rise.]
TELFORD/RUSH
I want this connection cut. I want to go back to my own body.
YOUNG
No, you don't. You're damaged goods. You go back now, your friends at the Alliance aren't going to be too happy with you.
TELFORD/RUSH
I don't have any friends in the Alliance.
YOUNG
Not anymore, you don't. Your only hope is with us. You come clean now, I will do my best to help you.
TELFORD/RUSH
I am not a spy, Everett! How many times do I have to tell you?!
INT—TEL'TAK CARGO HOLD
[Rush is unshackled by Dannic, who pulls him to a sitting position. Kiva pushes a button on her remote. A two-dimensional holographic display of symbols and a picture of a planet appear on a screen.]
KIVA
Recognize it?
RUSH/TELFORD


(breathless)


Should I?
KIVA
It's your work. To do with dialing the ninth chevron that leads to Destiny.
[Rush stares at the display with dawning horror.]
RUSH/TELFORD
These readings…
KIVA
Similar naquadria deposits. We had some issues adapting the equations, but there should be enough power to get us there.
RUSH


(bitterly)


You've found another Icarus Planet.
INT—TELFORD'S GUEST QUARTERS
YOUNG
Let's talk about the outpost. P2S-569.
TELFORD/RUSH
We've been through this. I was cleared of any wrongdoing.
YOUNG
Because they didn't have all the facts.
TELFORD/RUSH
I…I couldn't blow my cover. I didn't have a choice!
YOUNG
Remember that little combat engineer? Sanchez? Remember her? She used to follow you around like a puppy? She was hit in the first blast. Right arm severed at the shoulder. She's screaming, yelling, begging me to help her. All I can do is watch her bleed to death in the dirt.
TELFORD/RUSH


(sadly)


It wasn't my fault.
YOUNG
Now, we already know you did it, but it's possible you're not responsible.
TELFORD/RUSH


(puzzled)


Wha-What are you talking about?
YOUNG
Think about it. I want you to think about it. Why is it that the memory transfer happens only with you and only you and no one else when they use the stones? They messed with your head, David. They made you think that you are one of them, and you're not. That's not you. No, we can help you, we can bring you back. But I need you to take the first step. You tell us where they're taking Rush. David? Tell me.
[Telford stares at Young open-mouthed, then considers Young's words.]
EXT—PLANET CANYON, DAY
[The tel'tak flies towards a pyramid base on the top of a ridge.]
INT—LUCIAN ALLIANCE BASE
[Kiva and her men lead Rush into a lab area and Stargate room in the stone pyramid. Rush is gripping his (Telford's) right arm with his left.]
KIVA
We've replicated it as best we could. Olan! Meet Dr. Rush.
[A scientist comes over and looks down at Rush and Kiva from a balcony.]
OLAN


(awed)


Doctor.
KIVA
Olan is one of our lead scientists working on the project.
OLAN
Your work is impressive.
RUSH/TELFORD


(wearily)


It's nothing, really.
[Rush looks around with an ironic smile on his face.]
OLAN


(stuttering)


When I found out that you were on your way…
KIVA


(cutting him off)


Yes, we're all very excited to have Dr. Rush's full cooperation. Maybe now we'll actually make a connection.
[Kiva leads Rush up to the balcony area. There is a table set up with Earth computer equipment.]
OLAN
As you can see, we've…procured some familiar technology. It was necessary to implement your methods. I trust it will suffice?
KIVA
I'll leave you to your work.
[Olan nods. She leaves.]
RUSH/TELFORD
The figures for these naquadria deposits are correct, yes?
OLAN
Of course.
RUSH/TELFORD
Because if they're out, even by a fraction…
OLAN
We spent months doing a detailed orbital survey. We mapped every deposit down to the last vein.
[Rush taps some keys on the keyboard and waves his hand.]
RUSH/TELFORD
All right, then, I'm done.
OLAN


(surprised)


Really?
[Rush winces in pain as he nurses his injured arm.]
RUSH/TELFORD
Well, it's not that difficult when you know what you're doing.
OLAN
But…
RUSH/TELFORD


(biting)


I'm kidding. This is probably going to take some time.
OLAN
Oh…heh. Of course.
[Rush sits with a grimace.]
RUSH/TELFORD


(muttering to himself)


Quite possibly the rest of my life.
INT—CORRIDOR OUTSIDE TELFORD'S QUARTERS
[Wray approaches. Greer moves to block her path. She eyes him with derision.]
WRAY


Hmm.
(to Scott)


Lieutenant, there's a lot of talk around this ship about what's going on in that room.
GREER
This is a military matter, ma'am. It doesn't concern you.
[Wray steps forward.]
WRAY


(angrily)


That's exactly the kind of talk that forced us to try and take control of this ship once before…Sergeant.
[Greer turns to Scott, who nods approval. They switch places. Greer now guards the door and Scott approaches Wray.]
SCOTT
Camile…
WRAY
Do you want the rumors to spread, or do you want to do something about it?
SCOTT
It'll be over soon enough. That is all you need to know.
WRAY
See, that's the wrong answer! Come on, Lieutenant, something tells me that you do not want this on your conscience. Better be careful, whatever it is, we all have to live with it.
[There is a knock from inside the room. Greer opens the door, and Young exits. Wray catches a glimpse of a bloody Telford, whom she sees as Rush, sitting on a box, looking pained and exhausted. Young spots Wray and grimaces as he seals the door shut behind him.]
YOUNG


(to Scott)


I need to communicate with Stargate Command.
SCOTT
Do we let him out?
YOUNG
Nobody in or out. That is an order.
WRAY
I want to talk with him! Colonel!
[Young walks down the corridor, ignoring Wray.]
INT—LUCIAN ALLIANCE BASE
[Rush continues working on the computer. Kiva enters.]
KIVA
Progress?
OLAN
None yet.
RUSH/TELFORD


(muttering)


You must be joking.
KIVA
You're stalling!
RUSH/TELFORD
Well, if you want to blow yourselves up, you go right ahead.
KIVA


(threatening)


You along with us.
RUSH/TELFORD
This is going to take time, and I don't just mean a few hours.
KIVA


(nonplussed)


But Olan said we've been close for months now. I assumed that with your help, we'd be able to—
RUSH/TELFORD


(arrogant)


Look, with all due respect to Olan here, his work is shoddy at best. I'm sorry, you're just going to have to trust me on this one. The whole thing's a bloody mess. I may have to start from scratch.
[Olan looks very nervous. Kiva gives Dannic a look. He garrotes Olan, strangling him to death. Rush starts to get up to help, but Varro keeps him in his chair with a firm hand on his shoulder.]
RUSH/TELFORD


(horrified)


You call yourself reasonable?
KIVA
I am. You said he was incompetent.
RUSH


(upset)


I was stalling.
KIVA


(coldly)


You were right. I shouldn't have to demonstrate how important this is to me, to all of us, Dr. Rush. No more chances.
[Rush nods, looking terrified.]
INT—DESTINY CONTROL ROOM
[Volker joins Brody and Eli in the room. They're watching the communications room on a monitor, via a kino.]
VOLKER
Now what's happening?
BRODY
We're not sure. Young's been back and forth on the stones all day.
ELI
Looks like this time he brought someone back with him.
[The monitor shows Corporal Marsden by the stones, blinking in adjustment to the stone effect.]
VOLKER
Who is it?
INT—DESTINY COMMUNICATIONS ROOM
YOUNG
Welcome to the Destiny, General.
[O'Neill looks around at these new surroundings. He nods to Riley.]
O'NEILL/MARSDEN
Hello.
RILEY


(at attention)


Sir.
[He glances down at the uniform, and the insignia.]
O'NEILL/MARSDEN


(insulted)


Corporal?!
YOUNG


(amused)


Sorry about that, sir. This way.
[O'Neill gives Riley a wary smile as he trudges out of the room in this strange body. He starts heading in the wrong direction.]
YOUNG


(calling to him)


Sir.
[O'Neill turns around and follows Young the right way.]
INT—TELFORD'S GUEST QUARTERS
[Greer lets Young and O'Neill inside. Telford looks up.]
TELFORD/RUSH


(tiredly)


Who's this?
O'NEILL/MARSDEN


(pointedly)


General O'Neill.
[Telford looks obviously skeptical.]
YOUNG
It's really him.
[Telford stands.]
TELFORD/RUSH
Okay. Let's say it's true. General, I'm being held without charge. I've been denied counsel, and one of his men attacked me.
[He points accusingly at Young.]
YOUNG
David, he knows. He authorized it.
O'NEILL/MARSDEN


(admonishing)


Well, maybe not that last part there.
YOUNG
This is what I've been trying to tell you.
O'NEILL/MARSDEN
Time to come clean, son.
YOUNG
We need to know where they've taken Rush.
TELFORD/RUSH
You checked out that gate address I gave you?
O'NEILL/MARSDEN
Oh yeah. Dead end.
[Telford thinks for a moment, then turns to them, smirking.]
TELFORD/RUSH
You didn't think I'd give you anything real, did you? You should see your face. You look so surprised.
YOUNG
Actually, I'm disappointed. You may not believe this, but I was actually holding out hope that it might not be true, that there was some other explanation.
TELFORD/RUSH
It doesn't matter. You can't stop it.
O'NEILL/MARSDEN
Stop…what?
INT—LUCIAN ALLIANCE BASE
[Varro enters with a tray of food.]
VARRO
Here you go.
[Rush ignores him, continuing to work on a laptop. Varro eats some of the food to prove it's not poisoned.]
VARRO
I wouldn't say it was good.
[Rush immediately scrambles to the plate and begins to eat, setting aside the fork to eat with his hands.]
VARRO
What's it like? I mean, we've heard descriptions, but what's it like being there? On Destiny?
RUSH/TELFORD
You've flown around in spaceships before.
VARRO
Not an Ancient ship. Not that far out into the unknown universe.
RUSH/TELFORD
Well, it's a rust bucket, what can I tell you?
VARRO


(enthusiastic)


I can't wait to see it for myself.
RUSH/TELFORD
What if I can't do it? What if we just fail to make a connection?
VARRO
Kiva promised she wouldn't kill you. Her word is good. I'll have to kill you myself.
[Varro leaves Rush to contemplate his fate.]
INT—TELFORD'S GUEST QUARTERS
TELFORD/RUSH
You think I was brainwashed? I came to my senses. We freed billions of people, from thousands of years of slavery all over our galaxy, and then we patted ourselves on the back and left them little or no means for survival. What the hell did we think was going to happen?
YOUNG
This isn't you, David.
TELFORD/RUSH
Wake up, Everett! You think the Lucian Alliance are just a bunch of criminals? Who made us judge and jury? People will do what they have to do to survive. You should know that by now. We take whatever we want. We do whatever is good for us regardless of the impact on other planets. What makes us so special?
O'NEILL/MARSDEN


(feigning lightness)


I know what makes me special.
TELFORD/RUSH
This is not our ship. It wasn't intended for us.
YOUNG


(patiently)


Where are they taking Rush?
TELFORD/RUSH
It was supposed to be for the benefit of all mankind.
YOUNG
Wow. He's more far gone than I thought, General.
O'NEILL/MARSDEN
Yeah, I've heard enough.
YOUNG
Should probably take it to the next level, sir.
O'NEILL/MARSDEN
Go ahead and do what you need to do.
YOUNG


(into radio)


Communication Room, this is Young. Please cut the General's connection.
INT—COMMUNICATIONS ROOM
RILEY


(into radio)


Yes, sir.
[He removes O'Neill's stone. Marsden blinks, adjusting to being back in his body. He looks around, and straightens when he spots Young.]
MARSDEN
Sir.
YOUNG
Dismissed, Corporal.
[Marsden spins on his heel and leaves, Young following.]
INT—CORRIDOR OUTSIDE TELFORD'S QUARTERS
[Wray waits outside for Young as he follows Marsden out.]
WRAY
Okay, this has gone on long enough. You have to cut the connection.
YOUNG
I can't do that.
WRAY
Dr. Rush's life is in danger! That's more important than getting any intel on the Lucian Alliance!
[Young looks accusingly at Scott.]
SCOTT


(shrugging, apologetic)


I just thought maybe we'd be better off if she knew…sir.
YOUNG


(into radio)


Control Room, this is Young.
INT—CONTROL ROOM
BRODY


(into radio)


This is Brody.
YOUNG


(over radio)


Can you bring up the life support controls for this section?
[Brody moves to the console where Eli is, essentially pushing him out of the way.]
INT—CORRIDOR
BRODY


(over radio)


I got it.
YOUNG


(into radio)


Begin venting the atmosphere in Colonel Telford's quarters now.
WRAY
What?!
INT—CONTROL ROOM
[Volker, Brody, and Eli exchange worried looks.]
BRODY


(into radio)


Say again?
INT—CORRIDOR
YOUNG
Begin venting Colonel Telford's quarters now.
WRAY
What the hell are you doing?!
YOUNG
Camile, stay out of this!
[Young passes Greer and looks through the door porthole at Telford.]
WRAY


(pleading, to Scott)


He can't do this! Lieutenant!
SCOTT


(torn)


I…
[Wray tries to rush Young, but Greer squeezes her arms, including where she was recently stabbed. She winces in pain and draws back.]
YOUNG


(shouting through door)


David! David, can you hear me?
[Telford gives a thin-lipped nod.]
INT—CONTROL ROOM
ELI


(quietly)


It's got to be a bluff. To…scare him.
[Brody's hand moves towards the control. Volker sees it.]
VOLKER
Whoa, whoa, whoa…
ELI
Look, you can't…
[Eli moves to stop Brody, but Brody blocks Eli with his arm. He presses the button.]
INT—TELFORD'S QUARTERS
YOUNG
David, I'm venting the atmosphere in your room. You've got five minutes before you die of suffocation.
[Telford looks away in disbelief.]
INT—CONTROL ROOM
[Eli looks at Brody in shock and confusion. Volker stares, biting his nails nervously. Brody sits by the station, staring numbly.]
INT—AROUND TELFORD'S QUARTERS
YOUNG
Your only hope is to tell me the location of the Alliance base.
TELFORD/RUSH


(sneering)


You're bluffing. Kill me, and you kill Rush.
YOUNG
I know, but right now, I'm thinking of the greater good. So, what's it going to be?
[Everyone in their respective locations stares silently, worried. Young and Telford eye each other in a mental show-down.]
TELFORD/RUSH
Young! Open this damn door! We both know you're not going to kill me.
[Young stares back at Telford, stone faced.]
FADE OUT
END CREDITS
Transcribed for Solutions by Aurora Novarum, May 2010
Related Articles
Related Links
Official
Fan
---
--Michelle 04:51, 25 May 2010 (UTC)