SGU 1.10 "Justice" Transcript
Jump to navigation
Jump to search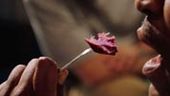 Episode Guide
SGU 1.10 "Justice" Episode Guide
Précis
Col. Young cedes command to Camile Wray after a crew member is found dead from a gunshot wound and the gun is recovered from Young's quarters. Meanwhile, a planet harbors a secret that threatens the Destiny.

Guide | Transcript
Transcript
TEASER
EXT—SPACE
[Destiny flies faster than light.]
INT—MESS HALL
[Greer, Franklin, Eli, and Brody all wait as Becker approaches with a tuber that looks beet red, but shaped like a potato. He sets it front of Greer. Eli turns on the kino to record the event.]
GREER
Looks like a sweet potato.
BRODY


(chuckling)


That is so not going to be sweet.
[Several of the scientists chuckle.]
GREER
How do you know?
FRANKLIN
Analysis we did on the planet when we dug the first ones up. Just to make sure it was safe.
ELI


(reassuring)


It's safe. It's safe!
[Greer takes a careful bite. Everyone watches him closely as he chews. He smiles and leans in close to the kino camera.]
GREER
Now, that is one sweet potato.
[Everyone laughs.]
ELI


(hopeful)


Really?
GREER
Everybody try it. Dig in!
[He steps away as Brody, Franklin, and Eli cut up more of the vegetable and take excited bites. Greer exchanges smiles with Becker. Their faces quickly turn into expressions of disgust.]
ELI
Oh my god.
FRANKLIN


(spitting his out)


I think I'm going to be sick!
GREER
It is food, people! It will keep us alive. Becker. Boil 'em up, mash 'em up, and serve 'em up.
BECKER
Yes, sir.
[Everyone, including Greer is still rinsing out their mouths. Franklin is taking a napkin to his tongue to wipe off the rest of the vegetable.]
GREER
Who's on KP duty?
BECKER
Uh, Sergeant Spencer, but he should've been here an hour ago.
[Everyone falls silent. Greer takes out his radio.]
GREER


(into radio, sharply)


Sergeant Spencer, you have KP duty, and you are late.
[Franklin still looks nauseous.]
EXT—CORRIDOR OUTSIDE SPENCER'S QUARTERS
GREER
Spencer, get your sorry ass out of bed. You have KP duty.
INT—SPENCER'S QUARTERS
[Greer opens the door.]
GREER
I do not have time for this, Sergeant! Let's go!
[He turns on the light and sees Spencer half-lying on the bed. There is blood on the wall. Greer looks around warily, trying to assess what has happened.]
GREER
Spencer?
[He touches Spencer's shoulder, shaking him. The movement rocks Spencer's limp body back.]
INT—YOUNG'S OFFICE
[Wray and Young go over some papers.]
YOUNG
What was wrong with the old schedule?
WRAY
I'm worried that we may be pushing them too hard. It's not boot camp.
YOUNG


(wryly)


No. No. In boot camp, you have plenty of opportunity to learn from your mistakes.
GREER


(over radio)


Colonel Young, this is Sergeant Greer.
YOUNG


(into radio)


Go ahead.
INT—SPENCER'S QUARTERS
GREER


(speaking carefully)


I'm in Sergeant Spencer's quarters. He did not show up for duty. I came by to check up on him.
INT—YOUNG'S OFFICE
YOUNG


(into radio)


Greer, what is it?
INT—SPENCER'S QUARTERS
[Greer stares down at the bullet hole in Spencer's forehead.]
GREER


(into radio)


He's been shot, sir. He's dead.
END TEASER
OPENING CREDITS
INT—SPENCER'S QUARTERS
[Young, Greer, Wray, and TJ are in the room as Volker and another person seal up Spencer in a body bag and carry him away. Other crew members stand outside in small groups, looking troubled. TJ takes off medical gloves.]
YOUNG
When did it happen?
TJ
Rigor's set in pretty good, but not completely. So I'd guess…an hour either side of, uh, 0200?
WRAY
And no one heard the shot?
GREER
He chose to have his quarters away from everybody else.
TJ
Based on the blood splatter on the wall and the position of the body, I'd say he was…sitting on the edge of the bed.
[She mimes a gun going off by her forehead.]
YOUNG
Suicide.
[TJ exchanges looks with Greer.]
TJ


(hesitantly)


Well…
WRAY


(angry)


Why was he even allowed access to a gun?
YOUNG
He was a highly trained NCO…
WRAY


(talking over him)


No, he was unstable!
YOUNG


(talking over her)


…with duties that…
WRAY
…and you know
YOUNG
…required him to be armed.
WRAY
And it was required of him?!
YOUNG
Yes.
WRAY
You know I have said from day one—
GREER


(cutting in)


It wasn't suicide.
WRAY
What are you taking about—
GREER


(interrupting loudly)


Do you see a gun?! It was gone when I got here. I checked the whole compartment. Whoever did this took the weapon with them.
[They all look at each other gravely.]
INT—CONTROL ROOM
[Young, Scott, Eli, TJ, and Rush are in the control room.]
RUSH
So, any suspects?
[They all exchange looks.]
RUSH
Well, excuse me for being blunt, but there is a killer on board the ship. Do we have any idea who did this?
YOUNG
I don't know. I'm still trying to wrap my head around it.
ELI
It's unbelievable.
RUSH
Is it? You put ordinary people under enough stress, I think you'll find they're capable of just about anything. Add to that the fact that he was hoarding water and food, involved in several confrontations. I doubt you'll find many tears shed over this man.
SCOTT
He was one of our own, Rush.
RUSH
I'm sorry, Lieutenant. Was he your friend? Did he in fact, have one single friend on board this ship?
ELI
James hung out with him.
TJ
She…tolerated him.
SCOTT
All right, so no one could stand the guy. That does not make it okay.
RUSH
I didn't mean to suggest that it did. What I do suggest, however, is that Colonel Young, you should try and find out who this killer is as quickly as possible.
INT—GATE ROOM
[Everyone stands waiting as Young enters and climbs onto the stairwell so he can be heard and seen. TJ, Scott, and Eli have followed him in. Scott stands further up the stairwell behind Young. Greer is now wearing his tac vest.]
YOUNG
As I am sure many of you have already heard, Sergeant Spencer was killed last night. He signed the weapon out of the equipment lockup yesterday, and the nine millimeter handgun was not returned and is still missing. I'm aware of how extremely disturbing this is for all of us. So, this is what we're going to do. Lt. Scott, Eli, Mr. Brody, Lt. James, and Dr. Park were together playing cards in the mess at the time of the murder. They can all corroborate each other's stories, which gives them an alibi…
[The crowd starts to murmur dissent.]
FISHER
Hey, I was in the control room all night.
FRANKLIN
Yeah, I was in the hydroponics lab.
FISHER
Check the kino footage!
YOUNG


Listen, I am sure others will have alibis. But some of us won't. I can tell you for a fact that I was in my bunk sleeping at the time, but I can't prove that. And that makes me as much of a suspect as anyone. That is why I am turning over full control of the investigation.
(To Scott)


Lieutenant.
SCOTT
All right, we are going to do a room-by-room search, starting with quarters until the weapon is found. Now, everyone needs to stay here until that search is complete, but in the meantime—
FRANKLIN


(interrupting)


You are not searching my room without me there.
SCOTT
Anybody who wants to be there when their room is being searched can come along when their name is called. Is that fair?
[There are nods of agreement.]
SCOTT
Okay, Dr. Franklin, you can be first. Who else would like to be present when their…?
[Several people's hands raise, a large majority of the crew.]
SCOTT
All right, okay, uh, it'll take all day that way, but we can, uh, we can do two…at a time. If that's what you want. Uh, you two, follow me.
[He points out Franklin and Dr. Fisher and they follow him and others out of the room.]
INT—FRANKLIN'S QUARTERS
[Scott, Eli, and Franklin arrive at Franklin's room.]
SCOTT
All right. Dr. Franklin. Stay near the hatch, please.
[He and Eli start to search the room while Franklin watches.]
FRANKLIN


(sarcastic)


Guess I should be thankful there's no cavity search.
SCOTT


(annoyed)


That can be arranged, Franklin.
ELI
Hey, we don't like this any more than you do.
FRANKLIN


(skeptical)


Right.
INT—CREW QUARTERS
[Park and Brody search Dr. Fisher's room. She watches them with her arms crossed tightly over her chest.]
PARK
Yeah, there's nothing here. You can just stay here now until the all clear.
[As soon as Park and Brody leave, she seals the door behind them, locking herself in.]
INT—WRAY'S QUARTERS
[Scott and Eli search Wray's quarters.]
WRAY
You know, Lieutenant, I understand the need for a thorough investigation. Check all possibilities. But you shouldn't lose sight of the obvious.
SCOTT
What are you talking about?
WRAY
Sergeant Greer has to be your number one suspect.
SCOTT
So he killed Spencer, ran away to hide the gun, then went back and called it in? Besides, if he did do it, you have no evidence at all.
ELI


(low, in sing song)


Not helping your argument…
SCOTT
I am just-just saying, he is one of the few people we can eliminate as a suspect.
INT—GATE ROOM
RUSH


(over radio)


Colonel Young, come in.
[The conversation switches between Young in the Gate Room and Rush in the control room.]
YOUNG
What is it?
RUSH
I've found some new information regarding the Ancient chair interface.
YOUNG
Have they checked your quarters?
RUSH
Well, I don't know actually. I've got work to do.
YOUNG
Where are you?
RUSH
The control interface room. Look, I've come across some very interesting data…
YOUNG
You're supposed to be here, waiting with the rest of us.
RUSH


(scoffing)


Colonel, obviously neither one of us has anything to do with this business.
YOUNG
Well, that's not the point.
RUSH


(impatient)


I thought while all of this was going on, it might give us the opportunity to keep working. Obviously, I was wrong. Rush out.
YOUNG
Rush, get your ass back to the Gate Room! Rush!
[Everyone overhears his loud and ineffective cries.]
SCOTT


(over radio)


Colonel Young, this is Scott. Come in.
YOUNG


(sighing, into radio)


Go ahead, Lieutenant.
INT—OUTSIDE YOUNG'S QUARTERS
SCOTT


(into radio)


You're up, sir. You wanna be here, or, uh…?
YOUNG


(over radio)


No, no, you go ahead. I'll wait here.
INT—YOUNG'S QUARTERS
[Scott does a cursory look around Young's bed, not even opening drawers.]
SCOTT
Uh, all right, there's obviously nothing here. Let's move on.
[Eli has panned his flashlight around the room, noticing a strange shadow coming from the ventilation grate. While Scott heads for the door, Eli moves closer to the grate.]
SCOTT
Eli, come on.
[Eli gets on the bed for a closer look, not liking what he's seeing.]
ELI
Uh…
SCOTT
What is it?
[He moves closer as Eli removes the grate and pulls out the Beretta.]
SCOTT


(into radio)


Colonel, this is Scott. I need you to get down here right away.
[Young joins them in his quarters.]
YOUNG
Where was it?
ELI
In the air vent.
YOUNG
The vent. That's imaginative.
ELI


(apologetic)


I didn't mean to look that…hard.
YOUNG


(chuckling)


That's okay. I was the one who authorized the search.
ELI
Right.
YOUNG
You don't believe I put it there, do you?
SCOTT
No, sir. Of course not.
[Eli looks more doubtful.]
YOUNG
Somebody's trying to frame me, Eli.
ELI
Right.
SCOTT


(animated)


Right. So, this is what I've been thinking. We say that we found it in the storage room. Only the person who hid it in there will know any better. Maybe we can smoke 'em out that way!
ELI
Uh, are we sure that that's a good idea?
SCOTT


(shouting)


He did not kill Spencer, Eli!
ELI


(shouting back)


I'm not saying that he did, but…
SCOTT
Look, this is obviously somebody trying to undermine the Colonel's authority! We cannot let that happen!
YOUNG
Eli's right. I want you to take this gun to Wray. Tell her where and how you found it. Leave nothing out. She'll…know what to do.
SCOTT
Sir?
YOUNG
I can't investigate myself, Lieutenant. And you can't be asked to investigate your immediate superior officer. That leaves Wray. We got to play this by the book.
SCOTT
With all due respect, sir, if the book covers this, I missed it.
[Eli listens carefully, considering Young's words.]
YOUNG
Lieutenant, I need you to listen to me. Something's going on here. If we get caught in a lie now, here, this is going to turn into a bigger mess than it already is, all right? So I need everything above board, out in the open. That is an order.
[Scott looks mutinous, but nods.]
INT—MESS HALL
[Rush, Wray, Scott and Eli meet around a table.]
RUSH
Well, this looks bad.
SCOTT
It doesn't prove anything.
WRAY
That's not the point. This is a question of morale. A lot of people on board are going to have doubts.
SCOTT
Eli, you were flying a kino in everyone's face last night.
ELI
Just until the poker game. And then…then I put it in search mode.
RUSH
Well, maybe it caught something. Something that might indicate that Colonel Young had nothing to do with this.
[Eli and Scott leave to check it out. Rush gets up to follow.]
WRAY
Or that he did.
RUSH


(scoffing)


I find that hard to believe. Have you contacted Earth yet?
WRAY


(cautiously)


I was just about to use the communication stones.
RUSH
Well, whatever your superiors advise…we are on our own out here. Best we handle this ourselves.
[He leaves her.]
EXT—SPACE
[Destiny flies faster than light.]
INT—YOUNG'S OFFICE
[Chloe stands outside the door as it opens. A guard is posted outside.]
YOUNG
Thanks for coming.
[He shows her in and shuts the door behind her. The guard remains outside.]
YOUNG
I need a favor. Obviously, you've heard about what's been going on.
CHLOE
Yeah. It's…pretty hard to miss.
YOUNG
I didn't do it.
CHLOE


(taking a deep breath)


Okay.
YOUNG
Unfortunately, it looks like I'm going to have to clear my name before I can find out who did.
CHLOE
Uh, I don't understand.
YOUNG


Wray used the stones…
(gestures for her to sit)


please…
[They sit.]
YOUNG


(continuing)


…to talk to her IOA superiors. She came back authorized to hold an evidentiary hearing on the matter.
CHLOE
That doesn't sound so bad.
YOUNG
Don't kid yourself. She's going to come after me.
CHLOE
Why?
YOUNG
Well, the IOA's been chomping at the bit to have one of their own in charge. This is the best shot they've got.
CHLOE
Well, you-you could talk to General O'Neill.
YOUNG
Miss Armstrong, I could stay in charge without having to run to General O'Neill if that's what I wanted to do. This is about more than that. The point is, if she's going to be the de facto prosecutor, I'm going to need a defense. So…
CHLOE


(shocked)


Me?
YOUNG
You went to Harvard.
CHLOE


(protesting)


Political science.
YOUNG
This is more politics than law.
CHLOE
I-I would think Lieutenant Scott or…
YOUNG
I don't want it to seem like the military against the civilians… Please.
INT—LARGE ROOM
[Franklin sits at a chair at the end of the hall. Wray and Chloe sit at a table some distance from him. Several people are standing and sitting in makeshift gallery beside and behind them. Young himself stands near the door to the room.]
WRAY
Doctor, have you ever seen Colonel Young attack one of his own before?
FRANKLIN
I-I wouldn't call it an attack… He was defending me.
WRAY
Have you ever seen Colonel Young have any kind of physical confrontation with one of his men?
FRANKLIN
No, but I'm not military.
WRAY
You did serve at Icarus Base for a period of six months, which was under his command.
[Young leaves the room.]
FRANKLIN
Look, Spencer was out of control. He had to do something.
WRAY
Did he?
[Later, it is Volker in the witness chair.]
VOLKER
I was in the control room running a test. Uh, Colonel Young and Doctor Rush were-were talking. I don't think they realized that I could hear them.
WRAY
And what were they saying?
VOLKER
Uh, Colonel Young was complaining about Sergeant Spencer. Said that he had gotten out of hand, and if the situation didn't improve, he might have to take drastic action.
CHLOE
But you have no way of knowing what he meant by that, do you? Assuming you heard correctly.
VOLKER
No, not at the time, I didn't.
[Now it is Rush in the witness chair.]
RUSH
I don't remember the exact details of the conversation.
WRAY
But you do remember speaking with Colonel Young about Sergeant Spencer?
RUSH
Well, the Colonel was doing most of the talking. I think he just wanted to let off steam.
WRAY
Do you remember him saying that if things didn't improve, he was going to have to take drastic action?
RUSH
I'm not sure he used those exact words.
WRAY
Do you agree that Sergeant Spencer was a disruptive force, that his attitude was damaging to morale and was only getting worse?
RUSH
Yes.
WRAY
Then would you say that his…removal from the situation has been a…net benefit, or a detriment?
RUSH
I know what you're trying to do. You want me to suggest that we're better off without him, and therefore imply that Colonel Young may have drawn the same conclusion—that as commander, he may have believed he had no choice.
WRAY
Well?
RUSH
Well, that would be pure speculation, and I'm having none of it.
INT—KINO ROOM
[Scott and Eli have been watching the inquest via kino footage.]
ELI


(shaking his head at Rush)


Didn't stop him from saying it out loud, did it?
SCOTT
You sure there's nothing in the kino footage?
ELI
I-I've confirmed alibis for half a dozen or so people, but I haven't found anything that helps the Colonel.
[He hits play on the coverage again.]
INT—LARGE ROOM
[TJ is now in the witness chair.]
CHLOE
You found an empty bottle of sleeping pills in Sergeant Spencer's quarters, didn't you?
TJ
Yes.
CHLOE
Did you know he was taking them?
TJ
I wish I had. I might have been able to help him.
CHLOE
You're suggesting that he had a dependence, and as a result, that he was suffering from withdrawal.
TJ
It would explain a lot of things.
WRAY
But you don't know that for a fact.
TJ
No.
CHLOE
Hypothetically, if he was suffering from withdrawal, it could have caused him anxiety, depression, even suicidal tendencies.
TJ
Yes.
CHLOE
In fact all the physical evidence: the blood spatter, the angle of the wound, the position of the body. It was all consistent with suicide.
TJ


(nodding)


Yes.
WRAY
But you're not a forensic scientist.
TJ
No, but I've seen gunshot suicides before.
WRAY
And in those cases, was the gun ever absent when the body was found?
TJ
No, but it's obvious that someone planted—
WRAY


(interrupting)


It's not up to you to speculate—
CHLOE


(talking over Wray)


Isn't it true, Lieutenant, that if we were on Earth, there is a simple test you could do to determine if Sergeant Spencer had fired that gun?
TJ
I suppose we could test his hand for powder residue, and properly test the weapon for fingerprints, but we don't have the necessary equipment on board—
WRAY
Is it possible that a forensic scientist from Earth, say using the communications stones, might have been helpful even without the special equipment you're talking about?
CHLOE
Ms. Wray…
TJ
If we hadn't handled the weapon or contaminated the crime scene—
WRAY
Yeah, but whose decision was it to have us investigate this ourselves?
CHLOE
Ms. Wray, I think it was my turn to ask questions.
WRAY


(hissing, low)


What are you doing?
CHLOE


(calmly)


I'm taking my turn, as we agreed.
CHLOE
Lieutenant, would a proper autopsy be able to determine if he was in fact suffering from withdrawal?
TJ
Yes.
CHLOE
Expert or no expert, without any actual forensic equipment or facilities, is it possible to know for certain what really happened?
TJ
I don't think so.
[There are gasps in the crowd.]
WRAY
I think it's time that, uh, we took a short recess. We'll, uh, resume in an hour, thank you.
[Everyone starts to disperse. Chloe arranges her papers. Wray leans close.]
WRAY
I need to talk to you. Now.
INT—ANTECHAMBER CORRIDOR
[Chloe and Wray enter an unused corridor, and Wray seals the door.]
WRAY
What was that? We're trying to get to the truth here!
CHLOE
I don't think that's even possible.
WRAY
We can't afford to have an unsolved murder hanging over our heads!
CHLOE
So forget about the possibility that the Colonel is being framed, and just get this over with?
WRAY
I don't think Colonel Young is so far above reproach as you seem to think he is.
CHLOE


(sarcastic)


Oh, well, you're the human resources person. You would know all about that. In fact, you probably know more about every person on this ship than anyone. If we're throwing due process out the window, who do you think did it? We'll just go with that.
INT—CORRIDOR
[Young heads down a corridor, his guard escort following. He pauses outside a room, where he overhears people talking about the investigation into him. He pauses to listen.]
FISHER
You don't think he really did it?
PARK
I'm not so sure what to think anymore.
VOLKER
Spencer was a menace. We all know it. Maybe it's just like Rush said. Maybe he thought he had no other choice.
PARK
No, that's crazy.
VOLKER
Well, let's face it, how well do any of us really know the man?
[Young heads back down the way he came.]
INT—MUNITIONS ROOM
[Chloe explains the situation to Scott and several other military people, including TJ, James and Greer. Several of the military are cleaning or reassembling weapons.]
CHLOE
She wants to gather all the evidence she can, and then put it to a vote.
JAMES
What, like a jury?
CHLOE
No, everyone.
GREER
I say we end this right now. I say we go in there, tell them that the party's over, and get back to work! Who's with me?
[Several of the personnel get up, readying their weapons, including James. Scott steps in front of Greer.]
SCOTT
All right, take it easy, Greer.
GREER
This is mob rule.
SCOTT
Sergeant.
GREER
Lieutenant. This is what they used to do to guys like me for looking at white women the wrong way. Now, you think I'm going to hang back and let this go?
[The door opens and Young enters.]
YOUNG
Am I interrupting something?
TJ
No, sir.
YOUNG
At ease.
GREER
This has gone on long enough, Colonel. We're ready to back your play.
YOUNG
That won't be necessary.
SCOTT
Sir?
YOUNG
Ms. Wray and I have already come to an agreement. She's going to close the investigation for lack of evidence against me. I in return will be stepping down. From this moment on, she is in command.
[Greer and Scott exchange looks.]
EXT—SPACE
[Destiny flies faster than light.]
INT—WRAY'S QUARTERS
[Rush enters. Wray studies some papers.]
RUSH
I hear congratulations are in order.
WRAY
Really? I was just wondering what I've gotten myself into.
RUSH
An opportunity to do things differently, perhaps?
[Wray stands, closing her sketch book so that Rush won't be able to see it.]
WRAY


(impatient)


What do you want, Nicholas?
RUSH
Control over my science team, including Eli.
WRAY


(insistent)


But you report to me.
RUSH
Of course.
WRAY


(suspicious)


That's it?
RUSH


(chuckling)


You sound surprised.
[Still grinning, he leaves.]
INT—CHAIR ROOM
[Franklin, Volker, Park, Brody, Eli, and Rush enter the room.]
FRANKLIN
This is it?
RUSH
This is it.
VOLKER
Not very impressive. I mean, as far as chairs go.
RUSH
Well, time will tell, I suppose.
PARK
So you sit in the chair, and it downloads the secrets of the universe into the head?
ELI
And then you die.
RUSH
Not necessarily, Eli.
BRODY
Every time it's ever been tried. This close to death.
[He holds his finger and thumb an inch apart.]
FRANKLIN
Who's tried it?
RUSH
General O'Neill, for one.
FRANKLIN
And he survived.
BRODY
We don't have little grey aliens to set things right this time.
RUSH
No, we don't, but…this is an earlier model of that same device. Possibly a prototype. Built very early in their evolution.
ELI
In my experience, the 1.0 version's usually the most buggy.
RUSH
It's also the simplest.
FRANKLIN


(with wry chuckle)


Maybe it's really simple. Maybe it just…tells you how to fly the ship.
RUSH


(with wan smile)


Well, I'm sure it's a bit more than that. But, your point is well made. It's knowledge of this ship we need. If we're to survive, or for that matter, get back to Earth one day, then I'm convinced that this chair is the only way to do that.
PARK
Maybe there's a way of…choosing what information gets downloaded.
BRODY
Or maybe it's just a matter of slowing down the download, so it can be cut off.
RUSH
There's only one way to find out. This is our priority now.
[He touches the chair, then looks at the others as if challenging them.]
INT—YOUNG'S OFFICE
[Scott paces while Young reads a paperback.]
SCOTT
I-I don't get it. If Wray admits that there's not enough evidence against you—
YOUNG
Well, there may not be enough to convict, but there's plenty to cast doubt. And if I force the issue, we risk dividing the crew. We can't afford that.
SCOTT
These people need a real leader.
YOUNG
Whether they like it or not.
SCOTT
Maybe.
YOUNG


(standing)


Lieutenant, nobody signed up for this, and I can't just assume they're going to follow my orders, and I can't just rule the ship by force. I mean, I won't.
SCOTT
All right. You tell us that Wray is in charge, that is fine. But as far as me and Tamara, and the enlisted personnel are concerned, you are still our commanding officer, and nothing is going to change that.
INT—CHAIR ROOM
[Eli enters to find Franklin alone in the room, studying the chair.]
ELI
Still here?
FRANKLIN
Yeah, I got stuck with the late shift.
ELI
How's it coming?
FRANKLIN


(sighing)


It's not. We've run every Ancient systems diagnostic we've got. Nothing. Rush is trying to write a new program, but it seems like this thing is designed to prevent any kind of access except through the chair itself.
ELI
Which would prevent an alien species who doesn't happen to share Ancient physiology from trying to hack in, I guess.
FRANKLIN
Maybe Rush is right. Maybe we're close enough for it to work.
ELI
Believe me, if Rush thought it was safe, he'd be sitting there right now.
FRANKLIN


(thoughtful)


Yeah. Maybe…
ELI
You should get some rest.
FRANKLIN
Nah, Rush is due to relieve me at 2300. If I wasn't here, I'd never hear the end of it. Maybe you could go to the mess and get me some of Becker's alien mashed potatoes.
ELI


(dubious)


Really?
FRANKLIN
I'm starving.
ELI
Okay…You got it.
EXT—SPACE
[Destiny flies faster than light.]
INT—YOUNG'S QUARTERS
[Young reads his book alone. He fidgets and looks at his watch.]
ELI


(over radio, panicked)


This is Eli. Is-is anybody on this channel? I-I need help.
[Young gets up and grabs his radio.]
YOUNG


(into radio)


Eli, this is Young. What is it?
ELI


(over radio)


I have a medical emergency! I need help! Now!
INT—CORRIDOR
[Young races down a corridor. TJ is running from the other direction, carrying her med kit. They meet near the side chamber to the chair room.]
YOUNG
What happened?
TJ
I don't know yet.
INT—CHAIR ROOM
[Franklin is strapped into the chair, convulsing and grimacing in pain. The probes on either side of the headrest are pushed into his skull. His head is bleeding where they've pierced the skin. Eli's trying to physically pull the probe out to no effect. Rush is at a console. TJ rushes to Franklin's side.]
TJ
What happened? How long has he been in here?
[Eli moves to a console. The machine finally shuts down on its own and releases Franklin from the bindings. Franklin collapses forward, falling into TJ's and Young's arms.]
ELI
I-I went to the mess for five minutes, and when I got back, he was already in the chair.
[Young glowers at Rush.]
INT—INFIRMARY
[Wray, Young, Rush, and TJ stand over Franklin's inert form. His eyes are open. TJ finishes her examination.]
TJ
Well, the convulsions have stopped, but he's completely unresponsive. He's basically in a deep catatonic state.
WRAY
Is there anything you can do for him?
TJ
We could try a high dose of Lorazepam, see if it'll bring him out of it, but I'm flying blind here.
WRAY
Do it.
[TJ looks to Young for orders, but he remains blank.]
TJ
Yes, ma'am.
[Wray, Young, and Rush leave TJ to her patient.]
INT—CORRIDOR
[Eli and the other scientists are waiting anxiously just outside the infirmary.]
ELI
How is he?
YOUNG


(to Rush, ignoring Eli)


You just couldn't wait, could you?
RUSH
Anyone who had access to that room was under strict orders not to sit in that chair.
YOUNG
You knew. You knew the temptation was there—
RUSH


(talking over him)


We were there to analyze!
YOUNG


(continuing)


In fact, you made sure of it by telling them—
RUSH


(louder)


—determine the feasibility of accessing the information—
YOUNG
—it was their only chance!
RUSH
—without risking anybody's life!
YOUNG


(shouting, in Rush's face)


You wanted somebody there, because you didn't have the guts to do it yourself!
WRAY
Both of you, stop! It was under my authority, so ultimately, it's my responsibility.
YOUNG


(unfazed)


I know.
[Young leaves. Rush glowers, then goes in the other direction. Wray rolls her eyes, but looks somber.]
SCOTT


(low, to Eli)


All right, we need to talk.
[He and Eli leave.]
INT—KINO ROOM
[Scott and Eli enter.]
SCOTT
You've got those things running day and night, all over the dang ship, and you are telling me not one of them saw something—
ELI
No.
SCOTT
Anything out of the ordinary?
ELI
No! No! I've been over it twice. There's nothing there!
SCOTT
Look again.
ELI
Matt—
SCOTT
He was framed, Eli. We are going to find out by who, and we're going to put a stop to it.
ELI


(sighing)


Okay.
[Eli gets back to work. Scott claps him on the shoulder and leaves him to it.]
EXT—SPACE
[Destiny drops into normal space.]
INT—WRAY'S QUARTERS
[Wray holds her hand out, watching it tremble. She looks at herself in the mirror, looking sad.]
BRODY


(over radio)


This is Brody in the Gate Room.
[Wray gathers herself and goes to her radio.]
WRAY
Go ahead.
BRODY


(over radio)


We have an active gate, and we sent through a kino. Atmosphere is nominal, temperature is in the green. We're good to go.
WRAY
I'll be there in a minute.
[She opens the door to her quarters to find Greer standing right outside.]
WRAY


(startled)


Sergeant Greer.
GREER
Ma'am, may I have a moment of your time?
WRAY
I have to get down to the Gate Room. We're ready to send a team to the next planet.
GREER
That's actually what I wanted to talk to you about. I notice that myself and a few other marines were taken off the away team duty list.
WRAY
Yes.
GREER
May I ask why?
WRAY
Call it a…temporary adjustment.
GREER
You thought it was me who killed Spencer at first, didn't you?
WRAY
You were a valid suspect. If you can't deal with that, it's your problem, not mine. Now get out of my way.
GREER
Yes, ma'am.
[Wray starts down the hall. Greer remains outside her quarters.]
GREER
But I'm not going anywhere.
INT—GATE ROOM
[James, Rennie, Volker, and CAINE are geared up and ready to step through the Stargate. Wray stands with them.]
WRAY
All right, it doesn't look like there's much vegetation around the 'gate, so you may have to widen your search. Lt. James and Airman Rennie will be providing security, but you're in charge.
[She hands the kino remote to Volker.]
CAINE


(sarcastic)


Congratulations.
VOLKER


(unenthusiastic)


Yay.
[James jerks her head, and they step through the Stargate.]
INT—KINO ROOM
[Scott joins Eli in the kino room.]
SCOTT
Okay, what?
ELI
I'm sorry. I should've caught it.
SCOTT
What?
ELI
You have to look close.
SCOTT
T-there's nothing there.
ELI
Look at the time codes.
SCOTT
They don't match. So wait, wait-wait. What's that?
ELI
That is a deletion. I wouldn't have even noticed it, except it caused a minor glitch in the code. It's from the exact time that Spencer was shot.
SCOTT
So the kino did pick up something.
ELI
It must have.
SCOTT
But if-if it's deleted, how does that help us?
ELI
Because, whoever did this was good, but not good enough.
[Eli gets up and grabs his laptop.]
ELI


What—
(lowering voice)


What they couldn't have known is that I always back up the last two days of footage on my hard drive.
SCOTT
Why?
ELI
My documentary. I have to download it to my computer before I can edit it. If there's an Ancient version of i-movie in the database, I haven't found it. There.
[He pulls up some footage. Scott and Eli stare at the screen.]
SCOTT


(into radio)


Colonel Young, go to Channel Two.
YOUNG


(over radio)


What is it, Lieutenant?
SCOTT


(into radio)


I've got something you need to see.
EXT—PLANET, DAY
[The away time stumbles through a dry, rocky valley. Caine pauses near a pile of sand and sits down to shake the rocks out of his dress shoes.]
CAINE
Oh, god. I tell ya, if I could change one thing about the day we escaped from Icarus, I would've worn better shoes.
VOLKER
Really? Those are nice shoes.
[Volker and Rennie keep going. James waits with Caine.]
CAINE
Seriously. How much longer do we have to keep this up? There's obviously nothing here.
[Around the bend in the valley path, Volker and Rennie have stopped, staring in shock. James notices they've stopped and moves forward. She looks around the bend, then turns back to Caine, smiling.]
CAINE
What?
JAMES
Spoke too soon.
[He joins the others to stare at the crashed spaceship embedded off one ridge of the valley.]
INT—CONTROL ROOM
[Rush is on the radio with the Gate Room. The conversation switches between the locations.]
RUSH


(excited)


An alien ship?! Are you sure?
BRODY
That's what he said.
RUSH
How long till we jump?
BRODY
Just over two hours.
RUSH
I'm on my way.
[He leaves Park at the consoles. She too looks excited.]
INT—CORRIDOR
[Rush starts to hurry down the corridor. Young approaches from the other side.]
YOUNG
I was just coming to get you.
RUSH
Not now, I have to get to the planet.
YOUNG
It can wait.
RUSH
Look, they found the remains of a crashed alien ship. There's very little time before we jump back to FTL.
[He starts to move past Young, but Young grabs his arm and squeezes.]
YOUNG
It can wait.
INT—KINO ROOM
[Rush, Wray, Eli, Young, and Scott watch the footage.]
SPENCER


(over kino)
It's been about a week since I ran out of pills. Haven't slept much since. I can't think. Everything's…I don't know.
(sighs)


These people don't even realize they're inside a big, floating coffin. I wish I could come up with something better to say. I'm sorry.
[The footage shows him putting the gun to his head and pulling the trigger. Wray and Rush flinch in shock and horror at the sight.]
ELI


(stuttering, looking down)


The kino kept recording, but the-the file must've gotten corrupted in the transfer. This was all I could get.
SCOTT
Well, the point is, it wasn't there when Greer found the body, so we know someone took it along with the gun.
YOUNG
Who would have the skills to delete the file from the mainframe?
ELI


(slightly awkwardly)


It's not that hard, really. Anyone with a basic knowledge of the ship's computer. At least a dozen people, if not more.
WRAY


(clears throat awkwardly)


Colonel, I'm…sorry. I, uh, I-I don't know what to say. Obviously we need to rethink our situation.
SCOTT


(scornful)


Obviously.
WRAY
We should recall the team from the planet.
RUSH
No, no, we can't do that. In over a dozen planets, we haven't had a single indication of advanced technology up until now.
[Wray looks at him in disgust. Rush waves absently at the kino footage.]
RUSH
This mess isn't going anywhere.
YOUNG
He's right. This ship could be important. I'm going, too.
WRAY


(hesitantly)


If you think it's really—
YOUNG
I'm not asking permission. I'm telling you.
[Wray nods, backing down.]
YOUNG
Let's go.
EXT—PLANET, DAY
[Scott, Young, and Rush are amongst the newcomers to the ship.]
VOLKER
It's not Ancient. That much we've figure out. The material, the design, it's completely different.
CAINE
It's not emitting any radiation or EM fields. It's basically dead.
[Rush joins Volker by the hatch.]
RUSH
Have you been inside?
[Volker hands his scanner to Rush.]
VOLKER
We've located what looks like a hatch, but we haven't figured out how to get in. We'd probably have to cut it open.
YOUNG
How much time would that take?
VOLKER
More than we have.
YOUNG


(looking at watch)


We're pushing it as it is. Lieutenant, lets pack it up.
JAMES
Yes, sir.
[Rush is probing the ship via a cable connected to the kino remote.]
RUSH
No, just-just give me a couple of more minutes.
YOUNG
A few minutes is going to make a difference?
RUSH
Well, it might!
YOUNG


All right. I'm willing to push it if you are.
(To Volker)


Take your team and head back to the 'gate.
[Volker and Caine exchange looks.]
VOLKER


(to Rush)


Are you sure?
RUSH


(distractedly)


Yeah, we'll be right behind you.
VOLKER
Whatever you say.
[Young watches them all file away, around the bend in the canyon and out of sight. Rush has been studying the hatch of the ship.]
RUSH


(excited)


You know, Volker was right. This is unlike any other kind of alien technology we've encountered before. If they're indigenous to this part of the universe, they might be willing to trade: knowledge, information. There has to be a way in.
YOUNG
I know it was you.
RUSH
I'm sorry?
YOUNG
The files…were not corrupted. The kino kept recording until you came into the room.
[Rush sighs in defeat.]
YOUNG
So let's hear it. Let's here how you lie your way out of this one.
[Rush steps away from the ship and approaches Young.]
RUSH
I heard the shot. I went to investigate. Then I found him.
YOUNG
And then you, uh, you decided to frame me for murder.
RUSH


(scoffing)


That's a bit melodramatic. Nah. I knew there wouldn't be any real…evidence against you. The idea was to create just enough doubt to get you to step aside.
YOUNG


(chuckling dryly)


I see. That was the idea.
RUSH
Well, you're the wrong man for the job, Colonel. I'm sorry to have to be the one to say it, but I think you know it's true.
YOUNG


(challenging)


Do I?
RUSH
You don't believe in the mission. You resigned your position as SG leader because you didn't want to make the hard decisions—the life and death decisions. Well, that makes you a liability. I'm not proud of what I did, but I did it for the benefit of everyone on board.
YOUNG
The end justifies the means.
RUSH
Yeah, something like that.
[Young hits Rush in face. Then hits him a few more times, knocking him down. Rush grabs a rock and throws it, hitting Young in the forehead and scraping off skin. They continue to tussle, Young getting the upper hand and grabbing him by the shirt.]
YOUNG
Are we done?
RUSH


(spitting blood)


We'll never be done.
[Young head-butts Rush, knocking him unconscious.]
INT—GATE ROOM
[A crowd waits by the incoming wormhole.]
JAMES
We shouldn't have left them there.
VOLKER
What, so we could get stuck there too?
SCOTT
No one is stuck. Not yet. How much time?
BRODY
Twenty seconds.
[They exchange worried looks. Young comes through the Stargate.]
VOLKER
Colonel?
WRAY
Where's Rush?
[The Stargate shuts down.]
YOUNG
He didn't make it.
[Young keeps walking, leaving them all staring at the inactive Stargate in shock.]
EXT—SPACE
[Destiny enters faster than light.]
INT—YOUNG'S QUARTERS
[Wray, Young, Eli, Scott, and TJ are all in his quarters. Young is getting treated by TJ as he tells his story of what happened. Eli sits morosely to one side, looking at the floor.]
YOUNG
So, uh, we just stayed too long. On the way back, Rush tripped himself up, started a rockslide. I was ahead, but I just…I barely made it through.
WRAY
I just wanted you to know, Colonel, that I've informed the crew of the new evidence that's come to light. Since you've been completely exonerated, obviously you should resume your duties as commander.
TJ
Tomorrow.
[Young starts.]
TJ
You need to rest. She can be in charge one more day.
[Wray smiles softly and nods. They start to file out.]
YOUNG


(to TJ)


Thanks.
[Eli is one of the last to leave.]
YOUNG
Eli…shut the door.
[Eli closes the door and approaches Young.]
YOUNG
The rest of the kino footage?
ELI
Even Scott didn't see it.
YOUNG
I want you to make a copy for me, put it on this, and then delete it from your hard drive.
[Young hands Eli an flash drive.]
ELI


(clipped)


Okay.
[He stares at Young in an assessing way.]
YOUNG
Anything else?
ELI
No.
[He leaves Young.]
EXT—PLANET, NIGHT
[Rush regains consciousness. He gets up and looks at the sky, and the nebulae beyond.]
FADE OUT
END CREDITS
Transcribed by Aurora Novarum, December 2009
Related Articles
Related Links
Official
Fan
---
--Michelle 05:09, 16 December 2009 (UTC)