Difference between revisions of "Charles Cohen"
Jump to navigation
Jump to search
---
Revision as of 10:09, 8 January 2009
Stargate SG-1 Roles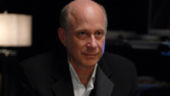 Biography
Charles Cohen is an executive with MGM Studios. Because of his great love for the Stargate franchise, he's also made a few cameo appearances in the shows and movies.
FROM MGM: Charles E. Cohen was named Senior Executive Vice President Finance and Corporate Development of Metro-Goldwyn-Mayer Studios Inc. (MGM) in November of 2006.
In his current role, Mr. Cohen oversees the company's financial, business development and financing activities including MGM's corporate credit facilities and co-productions.
In addition, Mr. Cohen oversees the Studio's new Home Entertainment Productions division along with the Studio's record breaking Stargate franchise.
Prior to his current position, Mr. Cohen was MGM's Executive Vice President, Financial Planning, a position he held from 1997 to 2006. From 1992 to 1996, he was Senior Vice President, Financial Planning. From 1990 to 1992, Mr. Cohen was Vice President, Financial Planning. He joined MGM in 1986 as Senior Financial Analyst.
Mr. Cohen holds a master of business administration degree from Stanford University and a bachelor of arts in international affairs from Occidental College.
Cameos
News and Interviews
Official Websites
---
--DeeKayP 09:09, 8 January 2009 (PST)