Atlantis Movies
Jump to navigation
Jump to search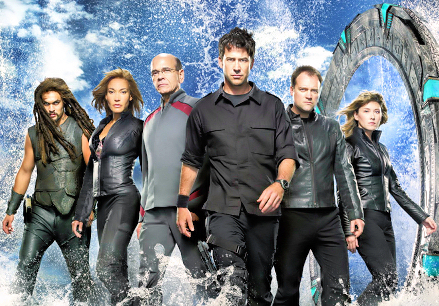 Stargate Atlantis Movies
First Movie Untitled
The first Stargate Atlantis movie will be broadcast on the Sci Fi Channel in late 2009 or early 2010 before being released on DVD.

"When we were breaking Enemy at the Gate, we saw it as a very special episode, not because it would be our series finale (at the time, we were somewhat optimistic that we would get that sixth season pick-up), but because it was going to be our 100th episode. For that reason, it turned out to be a little different from past finales, less a cliffhanger and more of a coming full-circle that featured the star of the series: the city of Atlantis. It was also intended to be the launching point for a very interesting early season 6 scenario: With Atlantis back on Earth, why the hell would the I.O.A. ever let it go? And if it remained, which, by all indications seemed likely, what would become of its occupants, especially Ronon and Teyla? Also, with a permanent station in the Milky Way, wouldn't Atlantis, logically, cease to be a launch point for gate travel and, instead, become a research center for Ancient technology? Well, I guess you'll never know the answer to these questions…

IF you don't check out the Stargate: Atlantis movie that goes into production later this year, that is. But since, I suspect, most of you will, then you'll have your answers in good time." — Joseph Mallozzi, January 10, 2009.

---

"About a month ago, with so much uncertainty about the future of the series, Rob Cooper pitched out the idea of shooting the SGA movie at the end of this season. His thinking was that if the series did end, we would have a movie in hand. If, however, the series was picked up, the "SGA movie" (codenamed Project Twilight) would simply become the opening two episodes of the show's sixth season. Alas, this notion never got past the consideration stage and, as a result, we won't be rolling right into it as planned. On the bright side, however, the network has greenlit the movie and we do have a terrific idea in mind. Obviously, I can't say much about it at this point but suffice it to say that it should include the entire cast in addition to a certain gaunt and pallid flowing-locked guest star. And, if it proves anywhere as successful as the first two SG-1 direct-to-video features, you can be assured that this will be the first in a long, long line of Stargate Atlantis movies." — Joseph Mallozzi, executive producer and co-showrunner, August 21, 2008.
"I can say only that it will be a movie that will be more accessible to new viewers than something that is trying to resolve dangling threads. It will be, hopefully, more of a stand-alone story." — Brad Wright, August 21, 2008.
"It's still in the very early planning stages but it will be big and chock full of great character moments. Beyond that - it's too early to tell." — Joseph Mallozzi, August 22, 2008.
"If all goes as planned, we should be filming both the SGA movie and the third SG-1 around the same time next year." — Joseph Mallozzi, August 31, 2008.
"Paul and I will be writing and producing the first Atlantis movie. We will probably be asked to read and provide notes on the SG-1 film script as was the case with both Ark of Truth and Continuum." — Joseph Mallozzi, September 1, 2008.
"It's unlikely we'll see Weir or Ford in the Atlantis movie." — Joseph Mallozzi, September 1, 2008.
Concerning the survivors of the new team introduced in Season Five's "Whispers": "This episode was intended as an audition of sorts and, in the end, Christina [Cox, Maj. Anne Teldy], Nicole [de Boer, Dr. Alison Porter], and Janina [Gavankar, Sgt. Dusty Mehra] did a great job with their respective characters. I loved all three and we certainly aimed to bring them back. However, by the time this episode was being shot, we had already developed over two-thirds of the stories for season 5 and, once we got into spinning stories for the final 5, addressing existing arcs and setting up the big finale became the top priority. Nevertheless, I was hopeful that if we received the sixth season pick-up, Teldy and co. would be back. I even toyed with the idea of placing Beckett on the team. Sadly, we didn't receive the pick-up. We did, however, get the greenight on an SGA movie so it's more than likely we'll see Teldy and her team again some time in the not too distant future." — Joseph Mallozzi, September 7, 2008.
From Solutions Q&A with Joseph Mallozzi, published September 9, 2008:

Q: When do you think you'll have more firm information you can share about the first Atlantis movie?

A: Possibly in the coming weeks.

Q: How likely are crossovers from SG-1 in the first SGA movie?

A: It's very possible that we'll have, at the very least, limited crossover. Given the story we've been spinning, it would make sense to see Carter, Daniel, and Teal'c pay Atlantis a visit.

"Our big two-part [Season Six] premiere would have picked up where we'd left off after the shocking events of our fifth season finale: Enemy at the Gate. Would have picked up? What am I saying? WILL pick up since the idea originally conceived for the opening two-parter will now be the basis of the first Stargate: Atlantis movie, the difference being that we'll be able to tell our story on a much bigger, visual effects-laden, character-centered canvas." — Joseph Mallozzi, September 30, 2008.
Concerning filming schedule: "Rumor has it late spring/early summer of next year, but I honestly couldn't tell you beyond that. I know Stargate SG-1 and Atlantis will be shooting movies at that time." — Amanda Tapping, SCI FI WIRE interview, October 2, 2008.
"Went into the office today and watched the producer's cut of Enemy at the Gate. A fitting end to a terrific series, and one that'll segue nicely into the movie - which Paul and I continue to spin. To those of you asking, it will ideally include all the familiar faces - and then some." — Joseph Mallozzi, October 6, 2008.
"I, meanwhile, have completed yet another pass on the preliminary beat sheet for the SGA movie that I'll be sending Paul's way on Monday." — Joseph Mallozzi, October 18, 2008.
"The beat sheet for the SGA movie is in Paul's hands and he has promised to work on it this weekend and put it out on Monday." — Joseph Mallozzi, October 29, 2008.
"The outline for the SGA movie. Paul sent me the revised version this morning. He was working on it while I was in Japan and has come up with some great ideas. We're two-thirds of the way through and now all we have to do is figure a way out of this fine mess. Lots of fun cameos and a major contribution from one recurring player in particular that is certain to have at least one fandom faction in a frenzy. Still in the process of working out that momentous shift in the status quo that will impact the lives of our characters. I'll be shifting my focus to this (and only this) tomorrow." — Joseph Mallozzi, December 10, 2008.
"The Stage 6 Atlantis sets are all still there, and in fact are being augmented in preparation for the first Atlantis movie." — Creation Entertainment, January 19, 2009.
"Since we wouldn't start shooting the Atlantis movie until the summer, as opposed to Universe which begins production in February, the series is more of a priority at this point. Also, because there is more work to do on SGU, you'll be reading a lot more about it as well. As for the SGA movie - Paul and I have an outline we're very happy with. The next step is to actually sit down and write it." — Joseph Mallozzi, January 24, 2009.
"So what, many of you have been asking, IS happening with the SG-1 and SGA movies? Well, at last report, Carl was about 20 pages away from a first pass of the script which will then find it's way onto Brad's laptop where he will do his pass. The Atlantis movie is still an outline but Paul and I will be starting work on the script in the coming weeks and hope to have it completed by April. An official production start date for either movie has yet to be announced. More detailed discussions on both movies will be taking place in the coming weeks and, hopefully, I'll have more definitive news for you then regarding everything from actor participation to a preliminary schedule." — Joseph Mallozzi, January 26, 2009.
Concerning the Stargate Program going public: "Yeah, you know what? It was a possibility, it was something we considered, but obviously it couldn't really be dealt with in that episode [SGA's "Enemy at the Gate"]. We would have had to have come back to deal with it. And Brad has said that it's something that he wanted to deal with in SG-1. At this point I'm not sure -- if we had done it it would have run counter to what's going on with the third SG-1 movie. For that reason alone, we couldn't have done it. It would be nice to sort of take that step and open up and make the program public." — Joseph Mallozzi, About.com interview, posted in early February 2009.
"We haven't really gone out to the cast yet, but we always planned it to hopefully shoot in the summer. We picked a window where the cast should be available. It's just a matter at that point of trying to work out a deal with them, with the individual actors." — Joseph Mallozzi, About.com interview, February 2009.
Concerning cancellation and fan outcry: "In terms of Atlantis, it put a little bit more pressure on Paul and I to create a story [for the Atlantis movie] that would really appeal to fans of the show who have obviously gone through so much in the last few months with the cancellation, something that would be a really nice payoff for them, and I think we've got that story." — Joseph Mallozzi, About.com interview, February 2009.
"There was initial talk of a summer shoot but, given the tight scheduling, fall looks more likely." — Joseph Mallozzi, March 11, 2009.
Further Reading
---
---
---
---