Atlantis Movies
Jump to navigation
Jump to search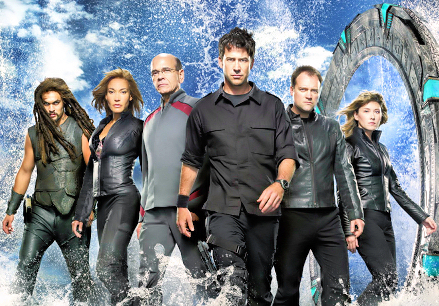 Stargate Atlantis Movies
First Movie Untitled
The first Stargate Atlantis movie will be broadcast on the Sci Fi Channel before being released on DVD.

"About a month ago, with so much uncertainty about the future of the series, Rob Cooper pitched out the idea of shooting the SGA movie at the end of this season. His thinking was that if the series did end, we would have a movie in hand. If, however, the series was picked up, the "SGA movie" (codenamed Project Twilight) would simply become the opening two episodes of the show's sixth season. Alas, this notion never got past the consideration stage and, as a result, we won't be rolling right into it as planned. On the bright side, however, the network has greenlit the movie and we do have a terrific idea in mind. Obviously, I can't say much about it at this point but suffice it to say that it should include the entire cast in addition to a certain gaunt and pallid flowing-locked guest star. And, if it proves anywhere as successful as the first two SG-1 direct-to-video features, you can be assured that this will be the first in a long, long line of Stargate Atlantis movies." — Joseph Mallozzi, executive producer and co-showrunner, August 21, 2008.

"It's still in the very early planning stages but it will be big and chock full of great character moments. Beyond that - it's too early to tell." — Joseph Mallozzi, August 22, 2008.
Further Reading
---
---
Stargate Atlantis Main Page
Season One | Season Two | Season Three | Season Four | Season Five | Atlantis Movies
---
---