2.03 "Prisoners" Transcript
From StargateWiki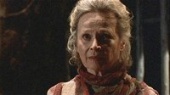 Episode Guide
Précis
The SG-1 team inadvertently helps a desperate criminal and is charged as an accessory to murder. Sentenced to life imprisonment and banished to a desolate, brutal penal colony called Hadante, they strike a deal to escape with the aid of the powerful and enigmatic Linea, known to the other prisoners as Destroyer of Worlds.

Guide | Transcript
Transcript
TEASER
EXT—ALIEN WORLD FOREST—DAY
[SG-1 are walking along the forest. Daniel is taking video of everything.]
O'NEILL


(obviously frustrated)


All right kids. We're due back, unless you can tell me you've discovered something Earth shattering, I'm read to bag this one.
DANIEL
We practically just got here. We have no idea what this planet has to offer.
O'NEILL
Trees and moss.
DANIEL
Well, a few miles from the Stargate, granted, but—
O'NEILL
Captain any signs of radio traffic in the last twenty-four hours? Any chemical traces in the air to indicate civilization?
CARTER
None, sir.
[Daniel raises a finger and starts to protest and O'Neill interrupts, raising his own finger.]
O'NEILL
Ack! Ack! We'll, ah…flag it for an aerial survey. As much as I love a good rain forest…
TEAL'C


(off camera, alerts them.)


O'Neill
[They hear muffled sounds coming from behind O'Neill. They all look. A man stumbles into view and falls to his knees.]
ROSHURE
Help me. They find me…Taldor.
O'NEILL
Who?
ROSHURE
Taldor. They find me now.
O'NEILL
Daniel?
DANIEL
Tal…ah? I don't…I have no idea.
ROSHURE
They find me. They find you.
DANIEL
Taldor is bad?
ROSHURE
All around us now.
O'NEILL


(Humoring him.)


All right, all right. We're surrounded by Taldor. Fine. Just relax. Just come with us. Come on.
[O'Neill helps the guy up and he and Daniel walk off deeper into the forest. With Teal'c and Carter keeping watch.]
O'NEILL
All right…Keep an eye out for Taldor, I guess.
[Walking back to the Stargate…Loud metallic sounds overhead and all around.]
ROSHURE


(frightened)


Taldor.
O'NEILL
What the hell is that?
ROSHURE
It comes for us.
O'NEILL


(Shouting now over the noise.)


What?
[A beam of light encircles them all from over head.]
INT—THE TALDOR PLANET—THE TAL'AL (SPEAKING ROOM)
[SG-1 and the stranger are beamed into a very large, dark room. The light still encompasses them. Their weapons are gone.]
O'NEILL


(looking at each team member)


Everybody all right?
FEMALE VOICE


(off-camera)


You are prisoners.
O'NEILL
And you are?
[He tries to see who they're talking to.]
DANIEL
Taldor! Taldor means justice.
[O'Neill glares at him, and Daniel shrugs.]
DANIEL
It just came to me.
MALE VOICE


(off-camera)


You trespass on ancient grounds.
O'NEILL
Hey, look. We didn't mean to trespass. We're explorers, we came through the Stargate from Earth.
FEMALE VOICE
It does not matter who you are or where you are from; you helped Roshure.
O'NEILL


What? Who? This guy?
(points to Roshure kneeling submissively on the ground.)


Yeah?
MALE VOICE
Then you share in his crime.
O'NEILL
What crime?
[He starts to get aggravated.]
FEMALE VOICE
Murder.
O'NEILL
All right, look. We don't know anything about a murder. He was running from something. He stopped for help. We helped.
MALE VOICE
For the crimes of trespass on ancient grounds…
O'NEILL


(to his team)


Anybody wanna to jump in here?
FEMALE VOICE
…of aiding a murder…
DANIEL
We had no intention of interfering with your justice system
MALE VOICE
…of carrying weapon on ancient grounds
CARTER
We are trained to defend ourselves.
FEMALE VOICE
You will be sent through the Stargate
[O'Neill shrugs his shoulders agreeably.]
DANIEL
Thank you
MALE VOICE
To the prison Hadante…
O'NEILL
Ah, Na no no no no no…This is just a misunderstanding.
FEMALE VOICE
…for the remainder of your lives.
[Close-up on each one of the SG-1 team-member's stunned reactions.]
END TEASER
INT—ALIEN PRISON STARGATE
[SG-1 and the stranger are thrown through the Stargate. Roshure runs off into the prison.]
O'NEILL
Hey!
[They rise to their feet. First pictures of an underground prison, what looks like tree roots, and humans whistling can be heard. O'Neill tucks his hat into his coat.]
O'NEILL
Well, this sucks.
[The resident prisoners enter the Gate area whistling and cautiously approach the new arrivals.]
DANIEL
Why are they whistling?
TEAL'C


(looking down)


O'Neill.
[Carter walks over and looks at what Teal'c has found. A burning pair of feet still in their shoes.]
CARTER
Oh my God.
O'NEILL
What?
[Close-up view of smoking crisp shoes.]
TEAL'C
The wounds are cauterized.
O'NEILL
Yeah? So?
CARTER
So, whoever it was must have been standing in front of the Gate when it opened. Disintegrated by the vortex.
[One of the prisoners (Scavenger) is hiding behind them beside the Gate.]
DANIEL
Why would anyone do that?
[The Scavenger runs up and grabs the crispy shoes, standing up to look Carter straight in the eye and shrinks away from her.]
CARTER


(friendly)


It's okay.
[He backs off and Carter follows.]
CARTER
We aren't going to hurt you. We just want to talk to you. Please
TEAL'C


(warningly)


Captain Carter!
[Carter is suddenly grabbed from behind by a very large, ugly man, she struggles. Hitting him with a backwards head-butt, she attempts to kick him in the shins. All the other prisoners just stand around and watch.]
LINEA
Vishnor.
[He drops Carter quickly, while she turns around to defend herself. Vishnor wipes some blood from his busted lip as the crowd of prisoners break open to reveal an older lady approaching SG-1.]
LINEA
You have been sent through the great circle
DANIEL
Well, yes but that was…
LINEA
You have been sentenced to life imprisonment here for your crimes or you would not be here. I am Linea.
DANIEL
Well, I am Daniel. This is Jack, Captain Carter and Teal'c. If you're the one that stopped this attack, ah, then I suppose we are grateful.
[Linea turns and puts a possessive hand on Carter's shoulder.]
LINEA


(To the other prisoners.)


This woman is under my protection. She is not to be taken by any man.
CARTER
It's all right.
[Linea raises a hand to stop Carter from speaking. Directing her attention to Vishnor.]
LINEA


Is that clear Vishnor?
(He doesn't answer.)


Is that clear?
[Vishnor backs off and the others walk away.]
LINEA


(To Carter.)


You were saying?
CARTER
Ah… ah, that I can take care of myself.
LINEA
I mean you no disrespect. But I know what it is to be a woman in Hadante.
CARTER


(Nods and mouths)


Thank you.
LINEA


(Turns back to the men of SG-1.)


For what little it is worth, welcome.
DANIEL
Oh, ah, excuse me but…
O'NEILL


Daniel, I think that's about it for the welcome wagon. (To Carter.)


You all right?
CARTER
Yes, sir.
O'NEILL
Okay, kids. This is our situation. What do we need?
DANIEL
Well. A dial-home-device would be nice.
O'NEILL
Okay, let's assume we don't find one of those. What else?
CARTER
Power to free up the super conductive ring on the Stargate.
TEAL'C
So we can dial the Gate manually.
CARTER
It's worked before.
O'NEILL
Right. So we're looking for a power source. Teal'c, look scary and take point.
[They start to walk away from the immediate Gate area. Teal'c leads, but the rest get separated momentarily by two prisoners blocking their way.]
O'NEILL


(To the other prisoners and pointing to Teal'c)


We're with him.
[They squeeze past the menacing prisoners. They walk until they find an alcove.]
DANIEL
It's like we're in Botany Bay.
O'NEILL
What?
DANIEL
Oh, the original name for Sydney Harbor. When the British first colonized Australia, they turned it into a continental prison that was half a world away.
[Realization of how far away they are from home hits Daniel.]
DANIEL
Of course this is probably more than…that.
[O'Neill comfortingly pats Daniel's shoulder.]
O'NEILL
It's okay, Daniel. It's okay.
TEAL'C
Perhaps the Taldor only believes the Stargate goes here.
CARTER
Wherever here is.
[They continue to walk down a few corridors deeper into the prison and they come across the prisoner who'd grabbed the dead prisoner's shoes from the Stargate area. The scavenger is dragging a dead prisoner.]
SCAVENGER


(To Carter.)


Here. I give.
DANIEL
You killed him?
SCAVENGER
No, not me. Killed himself. Not me.
O'NEILL


(Not believing him.)


Right
[The Scavenger rips a necklace off the dead guy.]
SCAVENGER
Here. For you.
CARTER
In exchange for?
SCAVENGER


Like Linea, a gift. For the protected one.
(Carter refuses with a gesture. He turns to Teal'c.)


You are very strong. Yes?
TEAL'C
Yes. I am.
SCAVENGER
Maybe you challenge Vishnor? Maybe you win. Maybe…I be your friend.
TEAL'C
Maybe not.
[The prisoner looks disappointed then continues on his way with the dead body.]
O'NEILL


(Watching the man drag the body away.)
Okay…
(To Daniel.)
Daniel, you and Teal'c keep looking around Botany Bay here. Carter and I are going to have a little chat with…


(looks to Carter.)
CARTER
Linea.
O'NEILL
Right. Something is generating the power around here, and she seems to be in charge.
[O'Neill looks around again as Daniel nods numbly. He and Teal'c start to walk away, and O'Neill catches Daniel's arm.]
O'NEILL


Oh, Daniel.
(He motions Daniel to come closer.)


You got to trust me on this.
[O'Neill reaches up and removes Daniel's glasses, placing them in Daniel's jacket breast pocket.]
O'NEILL
Signs of weakness are not a good thing in prison.
[O'Neill pats Daniel on the arm and Daniel and Teal'c leave. O'Neill and Carter proceed through the corridor to find Linea.]
CARTER
You know, sir, without our remote transmitter—
O'NEILL
Captain. General Hammond will send another SG team as soon as we are overdue.
ROSHURE


(Runs up and gets in O'Neill's face.)


Help. Help me, please! They're after me! Please!
[He grabs O'Neill by the jacket lapels.]
[O'Neill pulls Roshure's hands off.]
O'NEILL
Get off!
[He throws him to the ground. Roshure then gets up and runs off. A few of the other prisoners run between Carter and O'Neill, chasing Roshure.]
CARTER
What do you think they are going to do to him?
O'NEILL
Not our problem, Captain.
[O'Neill turns and walks away. Carter follows him.]
EXT—CHEYENNE MOUNTAIN EXTRANCE—DAY
INT—SGC CONTROL ROOM
[Klaxons sound as a technician sits at her monitor.]
FEMALE TECHNICIAN
We're getting SG-3's remote transmitter signal, sir.
HAMMOND
Let's hope they found SG-1. Open the iris.
INT—SGC GATE ROOM
[As Hammond looks on, the iris opens. SG-3 come thru in camouflage. Major Warren leads his men down the ramp, looks directly at Hammond through the window and solemnly shakes his head.]
INT—SGC CONTROL ROOM
HAMMOND


(Disappointed.)


Have them report directly to the briefing room.
FEMALE TECHNICIAN
Yes, sir.
INT—THE PRISON HADANTE—LINEA'S QUARTERS
[Linea is putting the stopper in bottle of a strange luminescent liquid. Her quarters are very much like a lab shelves holding bottles of liquids and other makeshift lab equipment. O'Neill and Carter stand in the doorway and Linea seems to sense their presence.]
LINEA


Sooner or later, all new arrivals come here.
(She turns to face them.)


You're not from any of the island states under the Taldor.
O'NEILL
Uh…no. We're from Earth. Earth is…well, it's way out there.
LINEA
Then you are from a place of which I have no knowledge. Do you intend to challenge me?
O'NEILL
Well, all we really want to do, right now, is get out of here.
LINEA


(smirks)
Get out of here? We are deep underground.
(She puts the bottle on a shelf.)


It is my understanding that the great circle transported us to an entirely different world. One that once teemed with life, but no more. This place, thousands of years old, is all that remains. That's why the Taldor turned it into a prison. They could see no other use.
CARTER
So, bottom line is the Stargate is the only way in or out.
LINEA
Many here believe that when a prisoner comes through the…"Stargate", they can be caught in the circle's great wave and returned to the other side.
[Carter and O'Neill look at each other.]
O'NEILL


(clears his throat)


Actually…they die.
[Linea tilts her head trying to understand.]
CARTER
You see, what- what you just referred to as "The Great Wave" is actually an unstable vortex generated when the Gate first opens. Anything inside its radius is completely disintegrated.
O'NEILL
There's a pair of smoking feet standing in place when we got here.
LINEA


(Sitting down.)


There are two ways and two ways only to control a society: through fear or through hope. In this world, fear is a constant. The belief in escape, whether founded or not, allows hope.
O'NEILL


So… out of hope…
(O'Neill and Carter sit down.)


…these people are killing themselves?
LINEA
They believe it is escape, who am I to say it is not.
O'NEILL
Well, we have a better way.
LINEA
What would you ask of me?
CARTER
We need power.
LINEA
There are many forms of power, my dear. Some more subtle than others.
O'NEILL
For the moment, we just need is the electrical kind.
LINEA
Then we both have something the other wants.
[Carter looks at O'Neill who maintains eye contact with Linea.]
INT—SGC BRIEFING ROOM
[Weapons and pack lay upon on the conference table. General Hammond picks one up.]
HAMMOND
They just handed you SG-1's weapons and remote transmitters and offered no further explanation?
WARREN
Only that they have been accused of a crime and sent through the Stargate to some sort of prison.
HAMMOND
What crime?
WARREN
They said it wasn't my concern and sent me straight to the Stargate. I was going to take my men back—
HAMMOND
No, you did the right thing returning to base. From what you tell me, this has become a diplomatic problem. That means SG-9.
INT—THE PRISON HADANTE—LINEA'S QUARTERS
[Carter and O'Neill are still seated facing Linea.]
LINEA
I've long believed that the best way to get knowledge is to give it.
[She pulls a couple of small bottles from a shelf and returns to the table where there is a plant like thing on it.]
LINEA
These are my activators.
[She slowly puts a couple of drops onto the plant, and it starts to turn green and glow from within.]
CARTER


(Intrigued.)


Is this a chemical reaction?
LINEA
Much more.
[O'Neill looks under the table.]
LINEA
The liquid permeates the hard core of the terra-root and allows for the organic material within to interact on a basic level.
O'NEILL
Basic? Meaning?
LINEA
That which we cannot see, but which all is made.
[O'Neill turns slightly to Carter, questioning.]
CARTER
Subatomic.
O'NEILL
Ah.
CARTER


(To Linea.)


Are we talking about organically based cold fusion?
LINEA
I do not know your terminology.
CARTER
Uh, what you call basics, we call atoms. Groups of protons, neutrons, and electrons. These are the basic building blocks of all matter.
LINEA
My activators spirit these materials to combine within the cells of the terra-root. When new material is made, new energy is released, flowing through the tendrils of the plant.
CARTER
Colonel, that's cold fusion.
O'NEILL
Mmm?
CARTER
Wh—whatever organic material the roots are made of serves as a catalyst, causing the atoms of her chemicals to fuse together. I-If we had this on Earth…
[O'Neill pinches the bridge of his nose.]
CARTER
…we'd practically eliminate pollution-
O'NEILL
Captain. Back to basics. Will it power the Stargate?
CARTER


(Looks at Linea.)


It might.
LINEA
Activate the great circle from this side? The permutations number in the billions. It's incalculable.
O'NEILL


Well, actually,
(indicating Carter with a nod of his head)


she figured it out.
LINEA
You?
CARTER
Oh, it was a team effort, really-
LINEA
How?
CARTER
Ah, well—
O'NEILL


(Stands.)


Tell you what, provide the power we need, and we'll take you with us.
LINEA
Only then you will share the knowledge?
O'NEILL
That's the deal.
INT—THE PRISON HADANTE—A PASSAGEWAY
[Teal'c has a prisoner braced up against the wall by the neck with is left hand and is choking him. Daniel worriedly looks on.]
DANIEL
Teal'c, I-I think he's had enough.
TEAL'C
If you once again try to physically harm myself, or any of my companions, my patience with you will expire.
[Teal'c drops the prisoner, and the prisoner stumbles away clutching his throat. Carter and O'Neill walk up.]
O'NEILL
Well, Teal'c…Making friends, are you?
TEAL'C
We found nothing of use.
DANIEL


Although I am fairly certain that this structure is the ruins of some sort of alien Gate terminal. Probably over 15,000 years old. That almost certain to pre-dates human civilization.
(O'Neill looks dully at Daniel.)


Which is not of any use, per se.
O'NEILL
We may have found what we need.
CARTER
Linea has a power source. And just not any power source either; this is incredible.
DANIEL
And she's just going to hand it over?
[Carter looks at O'Neill, who shrugs and drops the other shoe.]
O'NEILL
If we take her back with us.
DANIEL
Well can we just do that? I mean, we don't even know what she's in here for.
CARTER
What are we in here for?
O'NEILL


(Sarcastically)


Jaywalking, I think?
TEAL'C
Clearly, Linea has done something to earn the respect of these prisoners.
DANIEL
Well, when she warned that man to stay way from Sam, I saw fear in his eyes. Not respect.
O'NEILL


(Sarcastically, to Daniel.)


I'm just going to assume you've never been in prison before.
DANIEL
Oh, right. And—and you have?
[O'Neill just stares at Daniel, who begins to see that indeed O'Neill has been in prison before.]
O'NEILL


(Pointedly at Daniel.)
Oh, yeah. Any place like this has its own set of rules, and they don't have to make sense. Linea's obviously done whatever she's needed to do to survive. Just like we are.
(O'Neill touches Carter on the arm.)


Speaking of which?
CARTER
Well, Colonel, we're talking about powering one completely alien device with another. I mean, it's not like splicing together a few wires.
O'NEILL
I'll take that as a maybe?
TEAL'C
Without our remote transmitters, we still have no access to Earth. The iris will be closed.
O'NEILL


Okay.
(Sighs)


Daniel, you know more addresses than any of us, start thinking of alternatives.
[The Stargate powers up drawing their attention.]
CARTER
Incoming.
INT—THE PRISON HADANTE—GATE ROOM
[Chevrons lock in place as prisoners gather in the room. Some shuffle toward the Gate dragging a large chute and vat. All of them carry bowls. The team watch as the prisoners pass by. Vishnor walks up to O'Neill and points at him menacingly.]
VISHNOR
You eat last.
[O'Neill waves off what is clearly a whiff of bad breath as Vishnor walks away. The Gate kawooshes open, and the prisoners move to position the chute and vat on the steps of the Gate. SG-1 stand away from the group and watch, then slimy grey liquid pours through the Gate, down the chute and into the vat. The prisoners clamor around it, grunting in anticipation, but Vishnor pulls a few of them out of the way and stands guard as he and the assembled turn to where Linea is standing. The Gate shuts down and Linea walks to the vat with her bowl, the prisoners making a path for her. She hands her bowl to Vishnor who bows to her, then scoops some of the gruel out, handing the bowl back to her.]
LINEA
Thank you, Vishnor.
[Vishnor is handed his bowl by another prisoner and scoops some out for himself, and as he turns away, the others push in to get their portions. After scooping each runs back into the depths of the prison. The Scavenger is at the vat scooping out the gruel with his fingers, eating it. He then motions SG-1 over to partake. He offers his bowl of slop to O'Neill. O'Neill takes it, takes a sniff and grimaces. Dipping two fingers into the slop he passes it to Carter, and Carter is already grimacing from the smell. She dips and passes it to Teal'c, sniffing the concoction with revulsion.]
INT—SGC BRIEFING ROOM
[Major Kovacek addresses General Hammond. Major Warren stands next to the General.]
KOVACEK
Sir, SG1 broke the law on P3X-775. We don't have to agree with their law, but we may have to respect it.
HAMMOND
Sounds like to me they just made an honest mistake.
KOVACEK
We tried to explain that sir. On our world, unknowingly abetting a criminal doesn't merit this kind of punishment. However the Taldor, they're the judicial body, they believe in zero tolerance almost religiously. No appeals process, essentially, a single sentence: life imprisonment for nearly all offenses.
HAMMOND
That doesn't sound like justice to me.
KOVACEK
Perhaps not, sir, but the fact is they have virtually no crime. Just crimes of passion, sometimes the occasional sociopath.
WARREN
General, sir, SG-3 is prepared and willing to go in.
KOVACEK
No sir, with all due respect, force isn't the answer, sir. They're far more technologically advanced than we are. We couldn't possible succeed in extracting SG-1, and we'd just be making an enemy.
WARREN
They've already made an enemy.
KOVACEK
No. I disagree. Sir, they are open to relations with us. In fact next time, several members of the Taldor are going to allow us see their faces.
WARREN
Sir, This is nuts. Let my team go back.
HAMMOND


(to Major Warren)


Major, as of 0800 tomorrow, your unit is scheduled for standard recon of P2A-509. I expect you to be ready to carry out your mission.
WARREN


(reluctantly)


Yes. sir.
[Warren leaves the briefing room.]
HAMMOND


Major Kovacek, return to P3X-775. Let them know we mean business.
(Pauses, reconsidering.)


Better yet, I'll tell them myself.
[Kovacek looks at the general, then turns and leaves. Hammond walks over to look down at the Stargate.]
INT—THE PRISON HADANTE—LINEA'S QUARTERS
[A blue, luminous waterfall cascades down part of a rocky wall. Linea is seated by it adding some drops from a non-descript bottle of liquid into her bowl of gruel. Carter walks in.]
LINEA
I treat it before ingesting. It is quite better than what you scrapped from the bottom of the barrel.
[Carter sits next to Linea on the rocky out-cropping, and Linea hands Carter her bowl of food.]
CARTER


(Surprised)


Uh, thank you. Actually, I came to ask you something.
LINEA
My crime.
CARTER
Yeah.
LINEA
There was an experiment with tragic consequences. People died.
CARTER
How many people?
LINEA
Thousands. It began with a terrible plague among the people who sent you here. Time was short; I offered my knowledge. Instead of inhibiting the diseases progress, my medicine accelerated its effects.
CARTER
And they blamed you.
LINEA
Yes.
CARTER
I'm not surprised. We didn't deserve this either.
LINEA
Do not think that I am innocent.
CARTER
What you're saying is that you take responsibility for you actions?
LINEA
Yes.
[Linea stands and walks over to her terra-root.]
LINEA
I have decided to accept your offer.
CARTER


(Standing also.)


Great. I'll tell the colonel.
LINEA
You have altered the balance of power here. I have no choice.
CARTER
I'm sorry, I don't understand.
LINEA
It's only a matter of time before Vishnor and his followers challenge your friends.
CARTER
I'll warn them. Thank you.
LINEA
Tell them also, that if they fail, they will not live to try again.
CARTER


(Startled)


Okay.
[Carter leaves Linea.]
EXT—CHEYENNE MOUNTAIN ENTRANCE
INT—SGC CORRIDOR
[Hammond and Kovacek are kitted out in fatigues and walking hurriedly.]
KOVACEK
We better hurry, sir. The Taldor believe punctuality is emblematic as civilized behavior.
HAMMOND
They do, do they?
KOVACEK
We'll be transported almost immediately to upon our arrival to their Tal'al, or speaking area. Once there, the Taldor may or may not be willing to show you their actual face.
HAMMOND
Why's that?
KOVACEK
To put it politely, sir, they're xenophobic. To put it frankly, they're arrogant, narrow-minded, self-centered—
HAMMOND
I get the picture.
[The enter the Gate room; the Stargate is already active.]
KOVACEK
But they do seem to want to maintain diplomatic contact.
FEMALE TECHNICIAN VOICE
Special envoy, you may embark when ready.
[The Major and General walk up the ramp. Through the water surface, Hammond pauses for a moment before the event horizon.]
HAMMOND


(Deep breath.)


Well, here goes.
KOVACEK
Since this is your first time, sir, a quick word of advice: it's better to exhale just prior crossing the event horizon. One's instinct is to inhale immediately upon arriving on the other side. Also—
HAMMOND


I think I'll figure it out on the way.
(Leans in slightly to Kovacek.)


You're sure they dialed the correct address?
KOVACEK
Yes sir.
HAMMOND


(Purses his lips.)


Things I do for these people.
[The General and Kovacek step through.]
INT—THE PRISON HADANTE
[Daniel is sitting on the ground and scratches out two lines in the dirt. O'Neill is sitting on some stairs looking down at the list written in the dirt.]
DANIEL
Okay, so Cimmeria's out. So is Chulak.
[Carter walks in and joins them.]
O'NEILL
Captain?
CARTER
She says she'll give us power as long as we take her with us.
O'NEILL
Well, that's fine, but we still need a destination.
[Carter kneels down next to Daniel.]
DANIEL
Okay, well, P3A-707 might work, but there's no telling how long we'd be there before—
[The stargate powers up, drawing their attention.]
O'NEILL
Oh, for crying out loud. Let's go.
[Carter gets up and dodges behind a larger root, and O'Neill follows pulling Daniel to his feet and they move a short distance to look at the Gate as the chevrons lock into place. A few prisoners run past them toward the Gate. One is Roshure.]
DANIEL
What's going on?
CARTER
They think it's a way to escape.
DANIEL
WHAT?
[Daniel rushes up to Roshure.]
DANIEL
Excuse me. Listen to me.
O'NEILL
Daniel!
[Daniel stands between the three prisoners and the Gate right in the path of the vortex. The chevrons continue to lock.]
DANIEL
Look, th-this won't save you.
O'NEILL
Daniel, get out of there!!
DANIEL


(To the prisoners.)


You won't escape. You'll die.
ROSHURE


(Grabbing Daniel by the shoulders.)


Out of my way!
[He throws Daniel aside, who falls at Vishnor's feet just before the vortex explodes and engulfs the three prisoners. Daniel, Carter and O'Neill's react to the deaths of the three and then a new prisoner is thrown in from the Gate falling and rolling down the steps to the ground. They all look upon the new prisoner as he rises and the Stargate shuts down. The new prisoner is obviously blind. The whistling commences as other prisons assemble at the Gate and Vishnor sneers at Daniel.]
VISHNOR


(Menacingly.)


How dare you interfere.
[O'Neill and Carter move in closer, seeing Daniel threatened.]
DANIEL
I was trying to save those men's lives. They're dead now. They haven't escaped anywhere. They're dead.
LINEA
Vishnor.
[The assembled prisoners turn to see Linea, who walks up to them.]
LINEA
Leave him.
VISHNOR


(To Linea.)


He challenges me. I accept.
[Daniel steps towards Linea.]
DANIEL
How can you let this happen? Roshure just threw his life away.
LINEA
It was his life. The rules are the rules. Even I must obey them.
[Linea walks away. Vishnor grabs Daniel into a vicious bear hug from behind, while one of the other prisoners comes up behind O'Neill and wraps a cord around his neck. Another brandishes a sharp implement in front of Carter, but he only is after O'Neill in the grasp of the other prisoner. Everyone is avoiding Carter. Carter rushes over to Linea.]
CARTER
Linea, you can stop this.
LINEA


(Dispassionately.)


I told you this was going to happen.
CARTER


(yelling over the crowd)


Teal'c! Teal'c!
INT—THE PRISON HADANTE—A PASSAGEWAY
[Teal'c stops and turns as he hears Carter cry out.]
INT—THE PRISON HADANTE—GATE ROOM
[O'Neill is still in the grips of the men trying to kill him, while Carter is blocked by other prisoners and prevented from helping. Vishnor has Daniel in a chokehold and as Daniel passes out, Linea raises some sort of handheld device and it activates. Momentarily, Vishnor groans and collapses, and he and Daniel fall to the ground. Teal'c enters the room and kidney punches the man who has O'Neill in a chokehold. Freed, O'Neill joins Teal'c in fighting off the mob as Linea shuts down her device. The crowd subdued, Carter burst through the men who had been blocking her way and rushes to Daniel's side. O'Neill and Teal'c follow.]
[Daniel is curled up unconscious on the steps near the Stargate. The body of Vishnor lies nearby.]
CARTER


(Check Daniel's pulse.)


He's still alive. But just barely.
INT—TALDOR PLANET—THE TAL'AL (SPEAKING AREA)
[Hammond and Kovacek stand under the bright light.]
FEMALE VOICE
You are most punctual.
KOVACEK
Thank you.
MALE VOICE
You are the one called General Hammond?
HAMMOND


Yes. I am responsible for those people you have imprisoned.

KOVACEK


Ah, by the use of the word "responsible", the general is in no way assuming accountability for the actions of SG-1.
(Quietly to the General )


Begging your pardon, sir, but I don't want you to end up in prison along with them.

HAMMOND
On the contrary, I would gladly hold myself responsible. I ordered them to this world in the first place.

FEMALE VOICE
Is this an admission of guilt?

KOVACEK
No.

HAMMOND


(to the Major)
Yes, it is.
(to the Taldor)


As a matter of fact, if you would allow me to take the place of SG-1—

MALE VOICE
You ordered them to aid a murderer?

HAMMOND
No.

FEMALE VOICE
Then you're not guilty.

MALE VOICE
Not guilty.

FEMALE VOICE
Assumption of guilt by proxy is rejected.

HAMMOND


(Strongly.)


If my people are not released, the imprisonment of SG-1 will be considered a hostile act. Peaceful relations between our two worlds will end, right here, right now.

MALE VOICE
Our law is immutable.

HAMMOND
Your law is unjust.

KOVACEK
Sir, I'm not sure if this is—

HAMMOND


(Demanding)


What's it going to be?

FEMALE VOICE
Release is impossible.

HAMMOND


(Angrily)


Why?

MALE VOICE
There are no returns from Hadante…for anyone.

[Hammond glares at Kovacek in frustration.]

INT—THE PRISON HADANTE—LINEA'S QUARTERS

[Daniel is lying unconscious on the bed. Linea sitting on the edge of the bed is tending to him. She places a few drops of her "activators" into his mouth.]

LINEA
There. I have done what I can.

[She stands up and moves over to the newest prison arrival. Carter is also seated on the bed. O'Neill and Teal'c look on.]

CARTER


(To Linea)


I don't understand what happened.

LINEA
Your friend prevailed.

[Carter's eyes widen in disbelief as Daniel stirs slightly on the bed. Teal'c seems doubtful, as well.]

LINEA


(To the blind prisoner.)


What is your name?

SIMIAN
Simian. I took food. I was hungry, starving. They sent me here.

LINEA
Hold still.

[Linea leans his head back and examines his eyes.]

CARTER
He's blind.

LINEA
Yes. But not always so.

SIMIAN
It was taken from me a little each day.

[Linea selects one of her activators.]

LINEA


(to Simian)


There will be pain.

[She places drops into his eyes, Simian claws at them momentarily moaning in initial pain. Then he blinks and opens them fully, now able to see. He looks up somewhat excitedly, then, upon seeing Linea, he shrinks in fear, whimpers, and runs away stopping for a moment at the door, looking back, then turning to run off again. All watch him.]

LINEA
His eyes now see.

O'NEILL


(To the retreating figure)


You're welcome.

TEAL'C
He does not seem grateful

DANIEL
Uhh…

CARTER


(Turns to face him.)


Daniel?

[Slowly, Daniel rises from the bed, still weak.]

DANIEL
Unh. What happened?

[Going over to the bed, O'Neill sits down next to him and rubs Daniel's arm.]

O'NEILL


(In an Irish brogue)


Well, ya actually won a fight, Danny-boy.

DANIEL
I don't particularly remember getting the upper hand.

CARTER
Neither do I, but you must have.

DANIEL
P2A-509

[Carter and O'Neill exchange glances.]

O'NEILL


(To Daniel)


Little brain damage along the way?

DANIEL
No, uh-uh, SG-3 was schedule to go on a mission to P2A-509. General Hammond said so in our last planning briefing. We rendezvous with SG-3, and we use their remote transmitters to get home.

O'NEILL
And this just came to you?

DANIEL
No. This came to me while I was suffocating.

O'NEILL


Then P2A-509 it is.
(Getting to his feet.)


Linea? Do they send food—and I'll use that term loosely—does it come through Gate on a regular basis?

LINEA
Every day, at the same time.

O'NEILL


All right. That's our window.
(To Carter)


Will that work?

CARTER


(Nodding)


Power the Gate and manually dial in while the other prisoners are off eating.

INT—HADANTE GATE ROOM

[Gate activates and prisoners position the chute and the vat as before. The food pours in from the wormhole, and SG-1 and Linea stand by with their bowls in hand. All the other prisoners just stand back waiting.]

DANIEL
What are they waiting for?

TEAL'C
They believe you killed Vishnor.

LINEA
You must distribute the food.

[Daniel cautiously walks up to the vat, Linea follows close behind with her bowl. Daniel turns and takes Linea's bowl from her, dips and bows to her as he returns her bowl. As she walks away, the others prisoners begin to crowd the vat.]

DANIEL
Whoa! Whoa! Hey! Hey! Hey! Hey! Hey! Hey!

[The prisoners stop, and Daniel points uncertainly to his teammates.]

DANIEL
They're first.

[His teammates look from one to the other, and Daniel motions with his head to move on over to the vat. O'Neill offers Carter to go first, Carter goes and dips her bowl and moves off. Teal'c is next, he looks down at the slop, gives Daniel a half glance and moves off without partaking. O'Neill moves up and glowers at Daniel.]

O'NEILL
Thank you.

[Daniel smiles amusedly as O'Neill bends down and scoops out some food. When O'Neill is upright again, he stares at Daniel for a moment, who flashes a smile at him, then walks away. Daniel scoops a bowl for himself, then turns and looks at the prisoners.]

DANIEL
Okay, well, I guess-

[The others all shout and jostle him trying to get at the food, and Daniel scoots out of the way. The prisoners all scoop and run. As soon as they're out of site, SG-1 and Linea start rigging up the Stargate, wrapping it with the Terra-root. Linea drips her activators on the Terra-root plant. Simian walks in and sees what they're doing. The Terra-root are powering up and glowing.]

CARTER
Okay, that's it.

O'NEILL


(to Daniel)


Address?

[Simian ducks behind a wall still watching SG-1 and Linea while the other prisoners eat. The Stargate activates while the Scavenger also looks on. Daniel steps up and runs through the Gate first, with Carter helping Linea, Teal'c and O'Neill go through. Carter takes Linea's hand and they go through the Gate.]

[Simian steps out from the shadows.]

SCAVENGER


(Yelling)


Escape! Escape!

[Other prisoners hear, and rush to the Gate. Simian runs and throws himself at the event horizon. The Scavenger is joined by the other prisoners as they rush for the Gate, but the wormhole collapses on them. They stand dejected and groaning in frustration.]

SCAVENGER
No!

[The others walk away.]

EXT—CHEYENNE MOUNTAIN ENTRANCE

INT—SGC GATE ROOM

[With klaxons sounding, General Hammond enters the Gate room. The wormhole collapses and SG-1 and Linea are walking down the ramp and stop before Hammond.]

HAMMOND
Where in the name of heaven did you come from?

O'NEILL
Prison, actually. We just broke out.

HAMMOND


(Flabbergasted.)


Well, how? Your remote transmitters have been returned to us. SG-9 and I have spent the last two days trying to negotiate your release. With no luck, I might add.

DANIEL
Well, actually, we returned via P2A-509.

CARTER
Daniel remembered that SG-3 would be there, sir. Major Warren found us and was good enough to let us borrow a transmitter to open the iris.

HAMMOND


(Indicating Linea)


And if I may ask?

O'NEILL
Oh, I'm sorry. General Hammond, this is Linea.

CARTER
We wouldn't have gotten out without her, sir.

[Linea nods a greeting.]

HAMMOND
Then we owe you a great debt, ma'am. Welcome to the SGC.

LINEA
I've never seen such a place. It seems so alien.

TEAL'C
So it was with me, but over time it has become—home.

CARTER
General Hammond, sir, with your permission I'd like to offer Linea quarters here at the base.

[General Hammond looks to O'Neill to see his take on the request—O'Neill is at best unsure.]

CARTER
General Hammond, sir, with your permission, I'd like to offer Linea quarters here at the base. There is a great deal she has to teach us. In fact, I brought back samples of her root with Linea's activators can generate—

HAMMOND
I'll take that into consideration Captain. In the meantime, I'd like you all to report to the infirmary, including your guest.

[Daniel and Teal'c move off to the infirmary]

HAMMOND
Begging your pardon ma'am, it's merely precautionary.

LINEA
I would do the same.

HAMMOND
We'll debrief after you all have gotten a chance to rest.

O'NEILL


Yes sir.
(Taking Linea's hand)


Linea, Thank you.

[Linea smiles and nods, then follows Carter.]

INT—SGC—MAJOR CARTER'S LAB

[Carter and Linea are standing wearing clean fatigues, while Dr. Greene looks on.]

LINEA
You spoke of a machine for storing data.

CARTER
Yeah. Right here.

[Indicating the computer, Carter sits down and logs in.]

LINEA
You have a way of representing the basics?

CARTER
Molecules and atoms. Yes. Sit down.

[Carter rises, offering Linea her chair. Linea sits down at the computer, and Carter hands her a pen mouse.]

CARTER
Just use this.

LINEA
If I give you the basic structure of my activators, can you fabricate them?

[Carter smiles her assent.]

INT—SGC BRIEFING ROOM

[Hammond is at the head of the table, O'Neill and Daniel are either side of him and Teal'c is standing off to the side. O'Neill's neck shows bruising from the cord that was used to try to strangle him.]

O'NEILL
Of course, that was about the time Daniel picked a fight with this big, smelly guy. He actually won.

[Pounding on the door]

HAMMOND
Enter.

[Major Warren enters, leading Simian into the room. Simian is cuffed.]

WARREN
I found him lurking near our base camp, sir. I think you want to hear this.

O'NEILL
General, this is the…former blind man I was telling you about.

SIMIAN


(To O'Neill)


The first thing I see, The Destroyer of Worlds.

HAMMOND
Excuse me?

SIMIAN


(To Hammond)


She created a sickness. The one you call Linea. She—the Destroyer.

[O'Neill and Daniel exchange confused glances.]

O'NEILL


(To Hammond)


Uh, she told Carter there was a plague. She offered to help.

SIMIAN
Not help. She started it.

INT—SGC—MAJOR CARTER'S LAB

[On the computer screen are animated molecules.]

LINEA
And this Stargate system spans thousands of worlds?

CARTER
Theoretically, even more than that. We've charted several hundred already, so far we've only visited a fraction of them.

DR GREENE
We've discovered that most of the worlds in the network can sustain human life.

LINEA
Where is the repository of this knowledge?

CARTER
It's all in the computers. I'll show you.

LINEA
I'm in your debt, Samantha. This shall not be forgotten.

[She raises the handheld device used earlier against Vishnor. Carter's eyes open wide with shock.]

INT—SGC BRIEFING ROOM

[Simian is seated under guard at the table.]

SIMIAN
Our island states were at war, she created a sickness, one that she couldn't get herself. A terrible sickness.

HAMMOND
Go on.

SIMIAN
Half our people died. She came, promised to save the rest. By then it had spread, island to island. By the time they had caught her, she had destroyed half a world.

[O'Neill looks on worriedly.]

INT—SGC—CARTER'S LAB

[Linea is quickly scanning the computer files for Stargate addresses. She's typing away like an expert, Carter and the Doctor and the guard are collapsed on the floor near her.]

INT—SGC CORRIDOR

[Hammond, O'Neill, Teal'c and Daniel are walking and when they hear the klaxons go off and the Stargate dialing, they break into a run.]

INT—SGC CONTROL ROOM

[Hammond rushes in and runs up the stairs. O'Neill, Teal'c and Daniel are close behind.]

HAMMOND
What's going on?

FEMALE TECHNICIAN
Unauthorized Gate activation.

[A view of the computer monitor indicates chevrons locking in place.]

HAMMOND
Abort countdown. Get a team to the Gate room.

FEMALE TECHNICIAN
It's sealed, sir.

HAMMOND
Unseal it. Colonel O'Neill, effect the manual override.

[O'Neill nods his agreement and starts to type away at a keyboard while more chevrons lock.]

[Carter and Dr Greene run into the room.]

DANIEL


(To Carter)


Where's Linea?

DR GREENE
We came to, she was gone.

FEMALE TECHNICIAN


(Chevrons finish locking)


Wormhole has been activated.

HAMMOND
You were unconscious?

DR GREENE
Only for a few minutes.

FEMALE TECHNICIAN
The abort command is not responding.

[A monitor counts down from 34 seconds. Carter takes a seat at one of the computers to help. The blast door raises, Linea is on the ramp at the event horizon.]

HAMMOND


(Into the microphone)
Step away from that Gate.
(to technician)


Shut it down.

[The female technician enters a code.]

COMPUTER VOICE
Self-destruct in 30 seconds

[The technician's monitor flashes "Access Denied".

O'NEILL
It won't take our code, sir.

HAMMOND
Close the iris.

COMPUTER VOICE
Self-destruct in 20 seconds.

[Linea looks back from the event horizon.]

HAMMOND
Try shutting the whole system down.

CARTER
We can't sir. She's gone into the computer. She got the coordinates. Everything.

[Linea stand there still, then turns and walks into the event horizon.]

COMPUTER VOICE
Self-destruct in 10 seconds.

[The technician desperately is keying in numbers.]

COMPUTER VOICE
9… 8…

[The monitor continues to read out "Access Denied".

FEMALE TECHNICIAN


(Shaking her head.)


The codes have been erased.

COMPUTER VOICE
5…

CARTER
This doesn't make any sense.

[O'Neill looks at her.]

COMPUTER VOICE
4…3…2…1

[The Gate shuts down, and they all wait for a few moments, but nothing happens. Hammond looks at O'Neill, and O'Neill to Hammond.]

O'NEILL


(To the technician.)


Redial those coordinates. Request permission to go after her.

HAMMOND


(simultaneously)


Granted.

[Suddenly, the room darkens as the system blacks out.]

FEMALE TECHNICIAN
The entire system just crashed.

O'NEILL
Well, get it back up!

CARTER
Colonel?

[Carter's computer screen displays a message being typed out. The message says "Thank you for your kindness. All debts have now been paid." They stare dumbfounded at the screen.]

CARTER


(Anxious.)


We let her out.

DANIEL
The Destroyer of Worlds.

[All look out at the darkened Gate room ominously. Fade to black]

ROLL CREDITS

Transcript by Kira Rothery, revised by Marcia for Solutions, 12 Apr 03

Related Articles

Related Links

---

--Kylie Lee 12:21, 18 Jul 2004 (PDT)